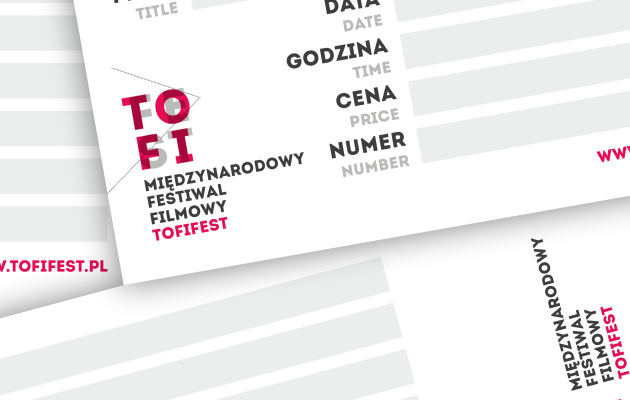 Ticket prices
Normal ticket: 14 zł
Discount ticket: 12 zł
Discount tickets are available to students, postgraduates, holders of UMK Alumni Cards and pensioners.
Group ticket: 8 zł
For groups of at least 20 people, after appointment (zaneta@tofifest.pl), free admission for group leader.
Set Moje 5: 50 zł
Set Moje 10: 75 zł
Pass: 160/140 zł
Sets and passes are available only at the Festival Centre. Holders of passes and sets are required to collect free entry tickets at ticket offices.
Ticket offices
Festival Centre: CKK Jordanki (al. Solidarności 1-3), 15.10–23.10.2016

single tickets
ticket sets
passes

ACKiS "Od Nowa" (ul. Gagarina 37a), 16.10–22.10.2016
Offices open from 10:00 until 15 minutes after the beginning of the last screening. Tickets and free entry tickets (for holders of passes and sets) to Kino Centrum have to be collected at the Festival Centre or ACKiS "Od Nowa". Screenings in Artus Cinema are free of charge and do not require entry tickets.
Booking
Bookings can be made in person at the Festival Centre and ACKiS "Od Nowa", in the opening hours of ticket offices – for the current and the next day — as well as online at Bilety24.pl. The ticket must be collected at least 30 minutes before the screening, after this time the booking will be cancelled.