Black Blood
Black Blood · dir. Miaoyan Zhang
China, France 2011, 123'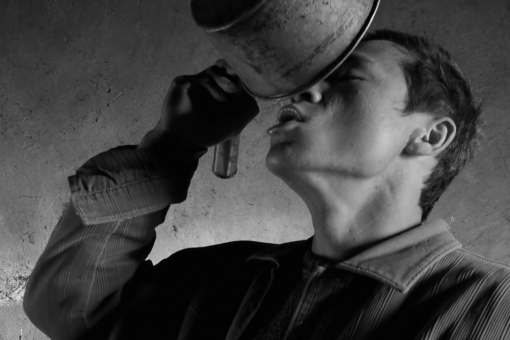 Screenings
06/28, 21:45 · Baj Pomorski – hall A
06/30, 12:30 · Baj Pomorski – hall A
As the dark smoke of the factory hits Xiaolin's throat, he knows he is getting close. Up ahead he sees the rattling old truck, at the edge of the crumbling Great Wall and the queue of villagers, eager to sell their blood. Xiaolin decides to returns to sell his blood in order to pay for his daughter's tuition. And soon his wife joins him. They decide to start a blood collecting business named Ali-Baba. They start to make considerable profits and their once empty courtyard soon becomes the bustling home to a large herd of sheep. Although their lives appear to be going well, it is a matter of time before disaster strikes.
They both fall victim to an incurable disease. Xiaolin and his wife Xiaojuan are only two of many thousands that are infected with HIV each year, selling their blood. As the couple fight for their lives, Xiaolin goes from door to door to try and get their daughter Ying adopted. Finally, Xiaojuan passes away, leaving Xiaolin with an deserted blood collecting station and a hungry daughter. But life still goes on...
| | |
| --- | --- |
| Director: | Miaoyan Zhang |
| Screenplay: | Miaoyan Zhang, Yang Zhihong |
| Music: | Andy F. Butler, Anette Bauer |
| Cinematography: | Miaoyan Zhang |
| Editing: | Miaoyan Zhang |
| Cast: | Danhui Mao, Mengjuan Liu, Yingyang |
| Awards: | Nagroda NETPAC – MFF w Rotterdamie / NETPAC Award – IFF Rotterdam (2011) |
Miaoyan Zhang — born in Manchuria in 1964 and growing up during the Culture Revolution, ZHANG Miaoyan barely had a chance to see movies. In the 90s he got an opportunity to study art at UC Berkeley which enabled him to watch foreign movies nonstop. Miaoyan started writing stories about contemporary China. None of them were published due to state censorship.