Film collection found in a drawer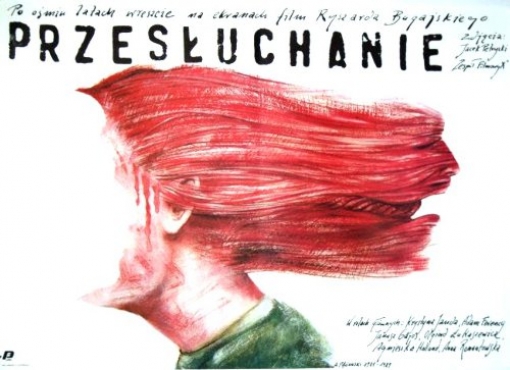 Krzysztof Kucharski – a true adorer of cinema, participating in every area of its existence. He has been the director of Kino Kopernik and Nasze Kino (both cinemas are now defunct). He is the author of a series of books, devoted to Polish cinema (Kino Polskie 1945–1959, Kino Polskie 1990-1999; the third volume will be published in the near future) and an avid collector. He has an ample drawer, where he keeps all the film-related gadgets: a great number of film posters, books, albums, photos, magazines, pictures, screenplays, tapes, and even video cassettes. Krzysztof Kucharski is a man so devoted to cinematography that he has built his own small cinema, right next to his house.
It's not easy to select the best ones from among hundreds of posters in Kucharski's collection. Some might accuse the exhibition of being too multi-layered and presenting posters in a non-chronological or chaotic way. But such were the times… not particularly well-organised and rather surprising. It was reflected in films, let alone cinema repertoires. Many films lay forgotten on the shelves and hit the screens of Polish cinemas, after many long years. They were often released overnight and the poster had to be prepared at once – some of such posters are now considered masterpieces, much to the surprise of the contemporary audiences. Many hours were spent trying to figure out a poster design to the film nobody had seen nor heard a word about. Some posters were painted and some were based on graphics or photographs.
And today… The exhibition based on the collection of Krzysztof Kucharski is just a fragment of his vast cornucopia. It is also a journey to cinema's past and posters of the time. We would like to present this mere sample of the passion for cinema to the audiences of the festival, so as to make you see a fragment of the treasures found in Krzystof Kucharski's cellar.
It is our pleasure to present the poster beauties that we have found. The exhibition opens on Sunday, June 21, at 8 p.m. in the Centre of Contemporary Art and will last until July, 3.
Zaćmienie częściowe / Mieczysław Wasilewski
Mefisto / Lech Majewski
39 stopni / Waldemar Świerzy
Magiczne ognie / Jakub Erol
Planeta krawiec / Lech Majewski
Limuzyna Daimler-Benz / Jakub Erol
Przesłuchanie / Andrzej Pągowski
Critters / Mieczysław Wasilewski
Małżeństwo Marii Braun / Andrzej Pągowski
Pierwsza miłość / Andrzej Pągowski
Saint Jack / Jan Młodożeniec
Zwykli ludzie / Jan Młodożeniec
Tunel / Romuald Socha
Powrót do domu / Jan Młodożeniec
Pół żartem, pół serio / Wiesław Wałkuski
MASH / Grzegorz Marszałek
Piłkarski poker / Andrzej Pągowski
Harfa birmańska / Andrzej Pągowski
Soból i Panna / Henryk Waniek
Z przewiązanymi oczami / Marek Płoza-Doliński
Zasady domina / Romuald Socha
Dzień Wisły / Andrzej Pągowski
Bukareszt 21.30 / Nieto
Dom pod czerwoną latarnią / Włodzimierz Terechowicz
Dupont lajoie / Lech Majewski
Dom przy Carroll Street / Eugeniusz Skorwider
Przeciw Wranglowi / Marek Mosiński
Nie strzelać do nauczyciela / Anna Mikke
Dziewięć miesięcy / Jakub Erol
Znachor / Jakub Erol
Sędzia Fayard zwany szeryfem / Włodzimierz Terechowicz
Dzień szakala / Eryk Lipiński
Dzień powszedni / Stryj
Drzwi w drzwi / Zygmunt Zaradkiewicz
Z własnej i nieprzymuszonej woli / Mieczysław Wasilewski
Historia miłości / Mieczysław Wasilewski
Zorro / Romuald Socha
Dyrektor do wszystkiego / Marika Ekier
Pani Minister tańczy / Jakub Erol
Dziewczyna z laską / Mieczysław Wasilewski
Jak rozpętałem II wojnę światową. Ucieczka / Jerzy Flisak
Jak rozpetałem II wojnę światową. Wśród swoich / Jerzy Flisak
Jak rozpętałem II wojnę światową. Za bronią / Jerzy Flisak
Dziewczęta z Nowolipek / Jakub Erol
Hitler z naszej ulicy / E. Libera
Mistrz Boksu / Wiesław Wałkuski