Out of Love
Z miłości · dir. Anna Jadowska
Poland 2011, 100'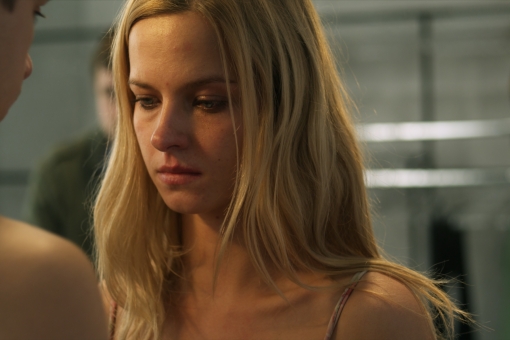 Screenings
07/01, 15:30 · Baj Pomorski – hall B
It is a story about Ewelina, a 20-year-old girl, who decided to play in a porn movie, together with her husband. The orgasm she experiences during shooting, the reaction of her husband and experiences of other women in the business will redefine her life, in its entirety... Ewelina and Piotr got married just a couple of months ago. They have a small baby and go through never-ending financial problems — just as many other young couples. Piotr has no permanent job and no idea how to support his family. When talking to their friends, they find out that acting in a porn movie is an easy and quite pleasant way of making quick cash. Ewelina and Piotr agree that this will be their only episode in such a film. The couple goes to Warsaw to make the bold plan come true. Having stepped into the world of porn films, the young and timid couple trigger a chain of events that will permanently change their relations and shift moral limits.
| | |
| --- | --- |
| Director: | Anna Jadowska |
| Screenplay: | Anna Jadowska |
| Cinematography: | Robert Mleczko |
| Editing: | Robert Ciodyk |
| Cast: | Marta Nieradkiewicz, Wojciech Niemczyk, Daniel Olbrychski, Ewa Szykulska, Anna Ilczuk, Elżbieta Gruca, Michał Grzybowski, Leszek Lichota |
Anna Jadowska was born in 1973, in Oleśnica. She studied at the Faculty of Polish Studies of the University of Wroclaw. She made her literary debut in 1996, writing for "Brulion" literary magazine. She also worked in the Polish Radio Wroclaw. In 2004, she graduated from the Faculty of Directing at the Film School in Lodz. She was a co-director of Touch Me, a full-feature film that was shown, among others, at the IFF in Berlin (2004). When studying at Andrzej Wajda Master School of Film Directing, she wrote a screenplay for the feature It's Me Now. In 2009, she made Generał — zamach na Gibraltarze, a feature film nominated for Golden Duck Awards, in five categories. The screenplay for Out of Love has been awarded in the prestigious Hartley-Merrill Script Competition.