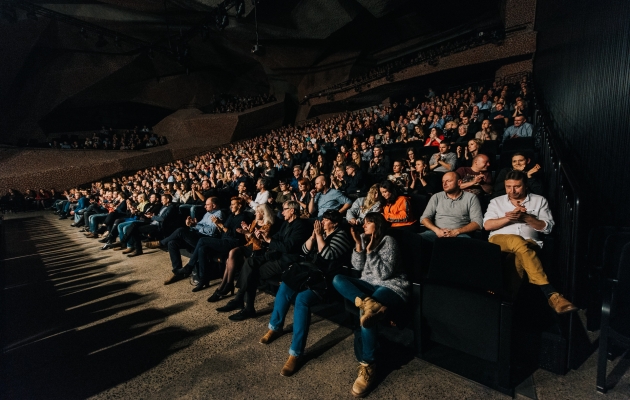 It is already the fourth time that festival films will be judged by a Young Jury. Today marks the beginning of competition the winners of which are going to sit on two young juries: A Student Jury and a Young Jury. Participation in our Jury can bring success: one of the jurors from last year's edition of the festival is now a juror at Gdynia Film Festival.
Tofifest is festival of youth and rebellion. That is the reason for having young film critics accompany the professional jury in the ON AIR Main Competition. They will be selected in a contest that has just started.
From Tofifest to Gdynia
Participation in our Young Jury is a straight path to success. In just a couple of days Agata Burdajewicz, one of the members of the Young Jury 2016, will sit on a Young Jury, during the 42nd edition of Gdynia Film Festival, which will award a director of one of the films presented in the Main Competition.
Agata has successfully competed against 150 rivals and written the best review. She had to face a similar competition for film reviews earlier, when she was a candidate for our jury. So, who can compete?
Who can compete and what should they do?
The competition is open for pupils of upper-secondary schools and for students. We will select two three-person jury compositions for a student jury and a young jury.
The rules behind the competition are quite simple. All it takes is to write a review of any film that is currently screened in Polish cinemas, and send it via email, to us. The content of such a review cannot exceed 3,500 characters. There are no other limitations imposed.
All texts are to be sent to the following address: press@tofifest.pl, until midnight on 2nd October 2017. The review must clearly indicate the jury you are applying for, as well as your name, surname, and type of school/college.
All reviews will be evaluated by our internal commission that will select the winners. Results will be announced on 5th October 2017.
The 15th edition of the Tofifest IFF will take place from 21st to 29th October 2017, in Torun. So, 1...2...3...go!
Additional rules
The following people can participate in the competition:
The Student Jury: people having a valid student identity card from any university, or people starting their studies on 1st October.
The Young Jury: people having a valid school identity card, who study at any upper-secondary school (as far as the Young Jury is concerned, under aged members must obtain consent from their parents to participate in the competition, as well as consent of their class tutor to participate in those festival screenings at Tofifest that will be in conflict with school classes).
There are no limitations regarding your place of residence, whatsoever.
Reviews can be written in Polish or English.
Jury members have the following privileges:

Admission to the entire ON AIR main competition, following the principles regarding members of the jury;
Free-of-charge access to the entire festival;
Invitations to festival ceremonies and accompanying events;
The right to come on stage, during the Closing Ceremony, when final results of the festival are announced;
A certificate confirming your participation in a Young of Student Jury.

The organisers will not provide any accommodation or reimbursement of travel costs for those winners of the competition for a young jury, who live outside Torun. However, we will happily assist you in finding a bargain ;)
Attention! If you are to become a student on 1st October 2017, you are free to apply for a student jury.
The Tofifest IFF – which is also referred to as a "rebellious festival" – has been around, since 2003. Its main focus is on ambitious cinema with character. Each year, the festival presents more than 150 films, divided into four competitions, and between ten and twenty other film sections. The following people have already come to visit our festival: Geraldine Chaplin, Ulrich Seidl, Jim Sheridan, Jiri Menzel, Emanuelle Seigner, Shirin Neshat, Boguslaw Linda, Janusz Gajos, Jerzy Stuhr, and Krystyna Janda. The main prize of the festival is the Golden Angel of Tofifest, which makes a reference to the medieval symbol of Torun – the city of Tofifest.