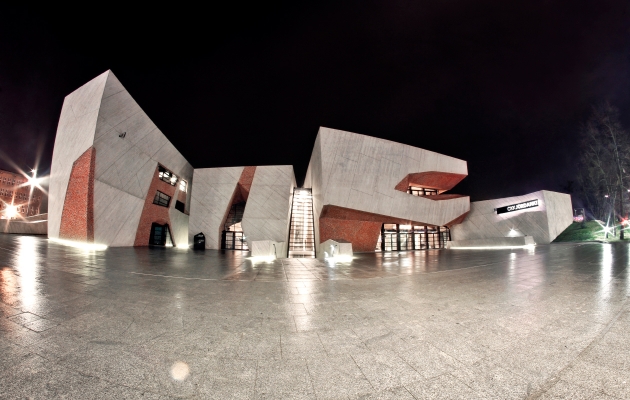 Festival Headquarters – The Cultural and Congress Centre Jordanki
The Cultural and Congress Centre Jordanki occupies 22,000 square metres of unique architecture, located in the very heart of Torun, and adjacent to the Old Town that is listed as one of the World Heritage Sites. The facility has been designed as multifunctional and modular, which enables organising the most daring cultural events, as well as large-scale conferences, congresses, and fairs. The building houses a concert hall and a small hall that can be directly connected. Thanks to using mobile auditoriums, it is possible to adapt both halls to events requiring a flat floor, i.e. big concerts, fairs, car presentations, or to those requiring a theatre configuration. The acoustics of the concert hall can be modified, using mobile ceilings, while the small hall has been equipped with a 3D cinema sound system. Furthermore, the Centre has additional three modular conference rooms, a restaurant, a professional press room, a recording studio, and an underground parking garage for 185 cars.
The building has been designed by Fernando Menis, a world famous architect, and its unique mass, as well as the solutions regarding acoustics and shape of the auditorium space, provide a perfect combination of both aesthetic and functional qualities. In the autumn of 2010, the Centre building was selected as the best cultural project of the future, during the World Architecture Festival (WAF). The architecture of the facility demonstrates a harmonious fusion of modern trends and the historic heritage of Torun. The brick interior is a reference to the Gothic architecture of the Old Town, while the entire façade of the building is covered with light, almost white concrete that blends into the surrounding greenery.
Academic Centre of Culture and Art "Od Nowa"
Academic Centre of Culture and Art "Od Nowa" is a club in Toruń, which belongs to the University of Nicolaus Copernicus. This is not only a meeting place for students; club also organizes concerts, theater performances and film screenings. Every year there are many unique festivals, including Torun Blues Meeting, Jazz Od Nowa Festival or Alternative Theatre Festival "Klamra". Club also has two exhibition spaces, organizes exhibitions and performances, supports contemporary art and presents the works of young artists.
In Od Nowa's Film Club and cinema student "Blue Blanket". The repertoire is very varied, presents the latest movies as well as older ones already considered a "classic". With the new multi-purpose hall, the theater is used not only students, but everyone in Toruń.
Arthus House Cultural Centre
The Arthus House Cultural Centre is an institution that goes well beyond the limits of standard cultural activities. And though we are located inside a historic building and we have ornamented neo-baroque rooms, the events that were organise are certainly not an old hat. Festivals, concerts, exhibitions, meet the author sessions with renowned writers, journalists, actors, film directors, travellers, cultural personalities, as well as unconventional educational activities for children, young people, and adults – we specialise in all of the mentioned. Visit us to listen to Katie Melua and Kasia Nosowska, Leszek Mozdzer and Moya Brennan, Ray Wilson and Nigel Kennedy, Zbigniew Wodecki and CeZik, Artur Rojek, or Jaromir Nohavica. If you choose to visit Arthus House, you will find out what secrets were hidden behind the life and work of Leonardo da Vinci, talk about philosophy, and also take part in a screening of surprise films, as part of a unique series of Mondays with films. Come, see, and listen... We are here for you!
Kino Centrum in the Centre of Contemporary Art "Znaki Czasu"
Centrum Cinema (Kino Centrum), belonging to the Arthouse Cinemas Network , is one of the two cinemas in Toruń, in which more than 30 festivals, thematic series take place every year and regular film repertoire is shown. At the moment this is the most active film centre in Toruń.
Programme of the cinema is also an integral part of CSW complex programme concept, which comprises shows complementary to particular exhibitions and events organized by curators collective at the CSW.
"Wejściówka" cafe im Wilam Horzyca Theatre