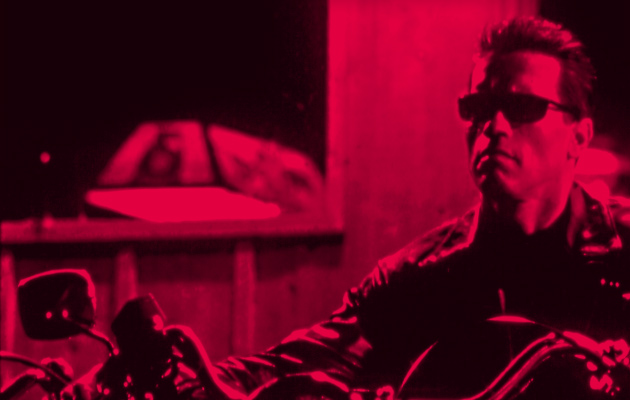 "I'll be back!" said T800 in one of the scenes in the legendary film "The Terminator." And he has kept his word. You shall see him on the big screen in a remastered version of this classic film by James Cameron, as part of the 17th edition of the Tofifest International Film Festival, the leading theme of which is 3M, i.e., Metropolis, Mass, Machine. Make yourselves available in the period from 19th October to 27th October, this year.
Little did he know about where we would end up with all the technological development which was supposed to help mankind grow, when Tadeusz Peiper was writing his famous manifesto titled "Miasto, Masa, Maszyna" (Polish for "City, Mass, Machine"). James Cameron, who would later make a name for himself as the director of "The Terminator", feared the possibility of machines rising against their makers. Back in 1984, in his dramatic dystopia depicting a world in which machines rule over men, the director already saw the problems we are facing today: the ecological crisis and the dying of our planet as we know it.
Being a rebellious festival by nature, Tofifest has never been deaf to the dangers we see everywhere. This edition is yet another opportunity for us to bring the attention of viewers to the problems tormenting the world of today, just as it is a homage to the artists who had warned us they would come. James Cameron is definitely one of such artists. To play one of the main characters in his film, the director cast Arnold Schwarzenegger, back then an actor at the dawn of his great Hollywood career. With a small budget at his disposal, the director created a monumental piece of film work, now celebrating its 35th anniversary, which later on turned into a cult franchise, with already its sixth episode hitting cinemas in November, this year.
James Cameron brought to life the vision of a robot as Tadeusz Peiper saw it – a machine of superior strength and intelligence, immune to the passing of time, absorbing its power from energy, indifferent to hunger, thirst, and sleep, all of which make it a being superior to men, slowly ensuring its domination over them. The clash of the intentions expressed by Peiper and their reversed reflection in the film by James Cameron will have its powerful resonance in the music concert "Metropolis, Mass, Machine" which ends the festival. The foundation of this music and film project is a coherent mixture of off camera voices, song lyrics, and visualisations. The selection of songs is the work of Bartek Staszkiewicz, artistic director, which guarantees the most powerful dosage of emotions. You will hear such songs as "Enjoy the Silence" by Depeche Mode, "State of the Nation" by Industry, "Self Control" by Raf, "Sounds Like a Melody" by Alphaville, and many other popular and loved pieces of music, all of them dressed in new industrialised interpretations. Our concert will surely unite robots and men, thanks to synthesizers and original interpretations!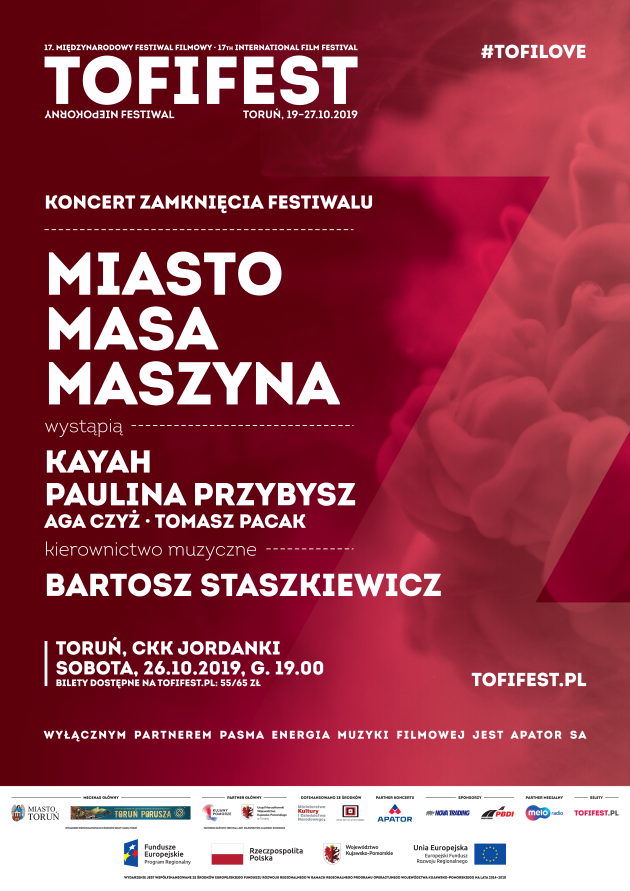 While on stage, the musicians will be accompanied by visualisations crafted by Maciej Wróblewski, the voices of Kayah, Paulina Przybysz, Aga Czyż, and Tomasz Pacek, and the electronic sounds conjured by a band comprised of four keyboard players and a drummer. All of them are going to take us to a futuristic reality that Peiper and Cameron had predicted.
The concert will be the crowning touch to the Closing Ceremony taking place on 26th October, 2019, at 7.00 p.m. Tickets are already available for 55/65 PLN at www.tofifest.pl.
Kayah - a singer, lyricist, music producer, and founder of Kayax record label. Her solo début came in 1988 with a big hit "Córeczko" (Little Daughter). She has many great hits to her name, including: "Testosteron", "Fleciki", "Supermenka" (Superwoman), "Na językach" (Tongues wagging), or "Za późno" (Too Late). The cooperation with Goran Bregović brought to life two great classic pieces "Śpij kochanie, śpij" (Sleep, my love, sleep) and "Prawy do lewego" (From the right to the left).
Paulina Przybysz - a singer and lyricist, who became popular in the band Sistars, in which she partnered up with her sister, Natalia. Her popularity came with the two albums "Siła sióstr" and "A.E.I.O.U.", which won great many awards, including the Fryderyk Award and SuperJedynka Award. In 2006, she started her solo career.
Aga Czyż - a singer skilfully dodging any music fashions or strict categorisations. She creates her own original music, taking care of both her lyrics and compositions. She is a fully-fledged artist with her own voice and her head is an abundant realm of sounds, as Przemo Urbaniak described the artist.
Tomasz Pacek - a vocalist permanently participating in jams sessions in Warsaw, during which he carefully collected contacts, ideas, inspirations, and shaped his style of singing. He cooperated with Kasia Cerekwicka, Edyta Górniak, Blue Cafe, or Margaret.
Maciej Wróblewski - a graphic designer, web designer, animator, and photographer, nominated for Yach Film Festival 2009 in the "Innovation" category for the video clip "White Chocolate" by NuSoulCity. He has lived in Great Britain since 2012. He can boast about working with Gordon Ramsay Restaurants, Kayax, and Vodafone.
Bartek Staszkiewicz is a keyboard player, pianist, and music producer. He is one of the founders of the music group Sofa with which he won the Fryderyk Award back in 2007 (Début of the Year). Later on, Bartek was nominated for that award two times, along with two nominations for SuperJedynka Award. He also participated in the finals of TopTrendy competition, the Première Contest at the National Festival of Polish Song in Opole and two times in the finals of VenaFest. As a session musician, he cooperated with O.S.T.R., Paulina Przybysz, Kasia Nosowska, Kasia Cerekwicka, and many other artists. He is definitely a man of many talents.