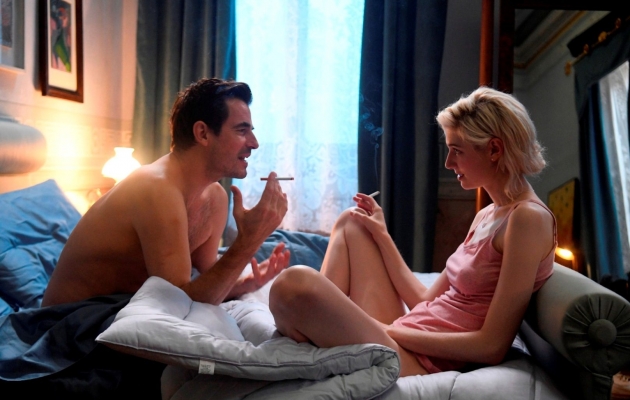 The Polish première of "The Burnt Orange Heresy" – the film which closes the Venice IFF and features outstanding performances by Mick Jagger and Donald Sutherland – will add splendour to the festival programme of the 17th edition of the Tofifest International Film Festival which takes place from 19th to 27th October, in Toruń.
It is definitely one of the most anticipated films of the year and selectioners representing the most important international film festivals fought fiercely to have it in their programmes. The international première of "The Burnt Orange Heresy" will happen this coming Saturday, in Venice, and the film will close the 76th edition of this oldest film festival in the world. From there, the film will embark on a long journey through festivals in Toronto, San Sebastian, Zurich, and all the way to Toruń, where the film directed by Giuseppe Capotondi will have its Polish première during the 17th edition of Tofifest.
The film is an adaptation of a very well received novel under the same title written by Charles Willeford, which focuses on the fate of an eccentric millionaire Cassidy (Mick Jagger), who makes an unexpected decision to invite James Figueras (Claes Bang), an art critic, to come visit him at this mansion by Lake Como. There is a hidden scheme behind this invitation. James comes along with a beautiful and mysterious Berenice (Elizabeth Debicki). The two are having a passionate love affair and they see this visit as a perfect opportunity to get closer to each other.
When all three of them are having dinner together, Cassidy gives James an offer he could not possibly refuse. He wants the art critic to steal a unique painting for him, one Cassidy obsessively desires to own, promising James fame and great career in return. James accepts the job unaware that it is a meticulously set trap, feeding on greed, ambition, and lies. He falls right into it dragging Berenice, just as unaware of the danger as he is, with him. Both of them are about to discover the truth they would never want to know.
One of the main characters in the film is portrayed by the lead singer of the cult band The Rolling Stones, who reveals himself as a talented actor. His partner on the screen is Donald Sutherland, who has built his artistic renown on superb performances in Kelly's Heroes, The Hunger Games series, or quite recently in the TV series Trust by Danny Boyle. Cinemagoers expect it to be the best on-screen duel between actors we will see this year. One can have no doubts about that keeping in mind the excellent work that Giuseppe Capotondi did with actors in the spectacular TV series Suburra and Station Berlin.
The Polish cinema première of the film is scheduled for the autumn of 2019.
It will be distributed by Best Film.