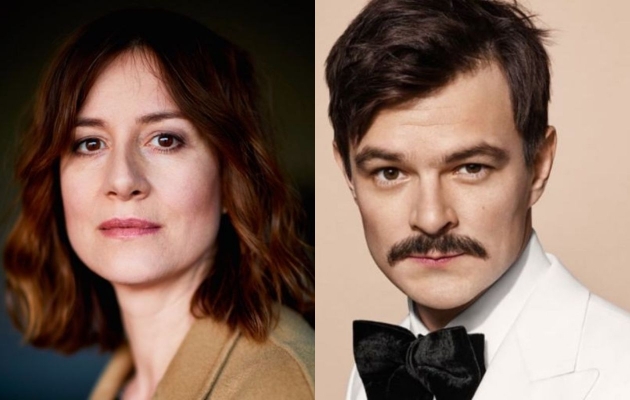 photo: Albert Zawada / Agencja Gazeta
Maja Ostaszewska and Dawid Ogrodnik have partnered up in the film Magnezja by Maciek Bochniak, which will hit cinemas in 2020. However, there is much more they have in common, than just the film. They share total dedication to their roles, both on stage and in front of the camera, and commitment to social matters, in their private lives. Both of them demonstrate a spirit of defiance, courage, and independence, when involved in any of the two spheres. During the 17th edition of the Tofifest International Film Festival (from 19th October to 27th October, 2019), they are going to receive the Golden Angel Award for Artistic Insolence.
The female protagonists created by Maja Ostaszewska are certainly memorable ones. Regardless of whether she portrays a provincial worker of a day care room in a school (in Przystań / Shelter by Jan Hryniak, awarded at the Polish Film Festival in Gdynia), a prosecutor dedicated to her work (in Uwikłanie / Entaglement by Jacek Bromski, nominated for the Golden Duck Award), a member of the intelligentsia during WWII (in Katyń by Andrzej Wajda), the wife of a spy (in Jack Strong by Władysław Pasikowski, awarded the Polish Film Award Eagle), or a psychotherapist (in Body/Ciało by Małgorzata Szumowska, another Polish Film Award Eagle), her roles stay with you. In addition to her undeniable talent and dedication to acting, she has managed to maintain a certain distance to her work, which she has proved by playing in comedies, such as two parts of Pitbull by Patryk Vega, or quite recently in (Nie)znajomi by Tadeusz Śliwa.
She shows her commitment away from the camera, too. For many years now, she has been fighting for things that matter to her, for example against inhuman treatment of animals, preventing global warming and discrimination of women. She was the only actress so far to have received the Teresa Toranska Award presented by Newsweek Poland weekly magazine, in 2017, in recognition of her commitment and pro-social activities. Now, she will expand her collection of awards with the Golden Angel for Artistic Insolence, which she is going to receive during the Opening Ceremony of the 17th edition of the Tofifest International Film Festival coming on 19th October.
As for Dawid Ogrodnik, he is extremely selective about his roles, in order to immerse in them completely. He received an award at the Polish Film Festival in Gdynia for the role of Rahim from the hip-hop band Paktofonika in Jesteś Bogiem / You are God by Leszek Dawid. He was showered with awards for the role of Mateusz, a boy suffering from cerebral palsy, in Chce się żyć / Life Feels Good by Maciej Pieprzyca, including the Polish Film Award Eagle and Polityka's Passport. We could admire his musical talent in the Academy Award-winning film Ida by Paweł Pawlikowski, and the role in Oleg by Juris Kursietis has taken him to Cannes IFF, this year. The role of a blind pianist in Ikar. Legenda Mietka Kosza by Maciej Pieprzyca has brought him another award at the Polish Film Festival in Gdynia.
His artistic courage goes hand in hand with the boldness to speak his own mind. The actor feels compelled to use his popularity and talk about issues important to the general public. And it is exactly the talent, hard work, and uncompromising commitment to raising social awareness for which we wish to grant him the Golden Angel Award for Artistic Insolence. The actor is going to receive the statuette during the Closing Ceremony of the Tofifest IFF, on 26th October, at the Cultural and Congress Centre Jordanki in Toruń.