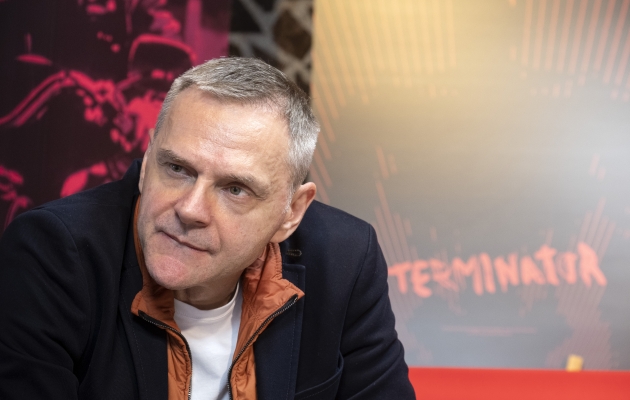 photo: Wojtek Szabelski / szabelski.com
On Thursday afternoon, festival goers had a chance to see the film Ikar. Legenda Mietka Kosza, directed by Maciej Pieprzyca, screened as part of the From Poland section. Shortly after the screening, there was a meeting session with the film director, conducted by Łukasz Maciejewski, a popular film and theatre critic.
Maciej Pieprzyca, author of such films as Chce się żyć / Life Feels Good or Jestem mordercą / I'm a Killer, kicked right off saying that jazz music had never been dominant in his life, although he had come to like it over the last couple of years. He has listened to rock music for as long as he can remember. The idea to make a film dedicated to the life of Mietek Kosz came from actor Piotr Adamczyk, which the film director stated openly. Nobody in the audience had ever heard about the magnificent pianist portrayed in the film, which only proves how important it was to make the film. Just as it was the case with Life Feels Good, viewers are confronted with a touching film dedicated to a handicapped person, who remains virtually unknown to the public. Once again, such a role was given to the great Dawid Ogrodnik, who portrays the main protagonist. Dawid was the only candidate ever considered to play the role, because he is the most talented actor of his generation. On top of that, he is a graduate of a music school and playing the piano comes naturally to him, said the director.
Maciej Pieprzyca also revealed that the famous composer Leszek Możdżer played an important role in the production of the film. Commenting on the offer to help make the film, the musician said: It is your duty to Mietek Kosz to bring the story of his life back to the people. The director has completely succeeded in this mission, judging by the vigorous applause he received after the meeting. The meeting moderator skilfully manoeuvred his interlocutor into telling interesting anecdotes related to the making of the film, while the majority of the questions asked by the audience present in the auditorium centred on the notable absentee – Dawid Ogrodnik.
We simply cannot wait to see new films coming from Maciej Pieprzyca.
Ignacy Duszyński