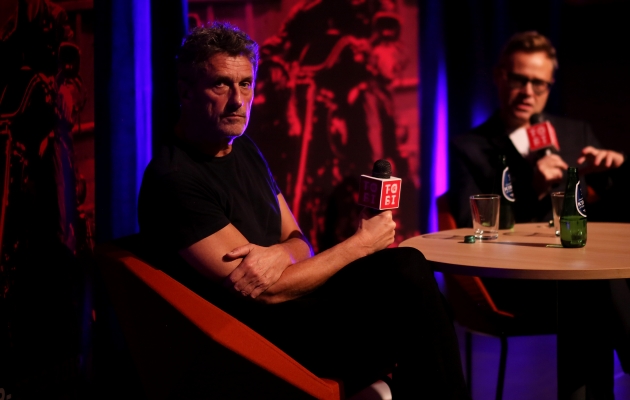 The ubiquitous flashing of cameras does not agree with one of the most distinguished guests of the 17th edition of the Tofifest International Film Festival. Paweł Pawlikowski, an artist with countless festival awards under his belt and praised by well-known filmmakers and musicians, started the meeting joking that there was too much filming around, at times. Demonstrating remarkable distance to both himself and his work, he talked about his career as a documentary filmmaker, the feelings that tied him to Poland, and the visual side of the film world.
The meeting kicked off with mentioning the rebellious edge in his films, which manifests not only in the problems discussed by the Polish artists in his films, but also in the approach to the process of creating film art itself. I do not like it, when people interfere with my work. I feel I have reached a position, which gives me total freedom, within a certain budget, that is, to make films I really want to make, and with the people I really want to work with. His film sets are filled with tangible energy, although it takes a lot of effort and time, before shooting for a film can actually begin. My work standard follows a certain routine: we start with a script, then look for money and actors, and finally push the whole wagon further ahead, somehow. It always takes a lot of time to prepare myself for a project ahead. I need to know all nooks and niches of the world that I want to show on the screen. Sometimes, I can take a long break from working on a particular film, but if there is some potential in it, it will eventually come back to me, he added smiling. When I start looking for the right actors, my script is far from finished. I used to travel with a camera by my side, in order to locate landscapes that agreed with my concept. I believe that my attachment to such details is a legacy from my time as a documentary filmmaker. It may sometimes take thirty takes to make sure a shot is perfect. Naturally, it drives everybody nuts. However, it can also be perfect after three takes, summed up Paweł Pawlikowski optimistically. If truth be told, his opinions about art are quite straightforward: Art is incapable of saving the world, but people are. Art can only help us do it or raise our awareness, but it will always give in to barbarity.
A significant portion of the meeting was dedicated to music. Music has always been very important to me. Cinema is a perfect medium for me, as it combines music, photography, and poetry, the three fields of art I have tried to master and failed. As for cinema, everything here somehow comes together naturally. When going through scenes in a film, I am simultaneously looking for songs, which could add more life to them. I make notes in the margins of a script to use a piece composed by Mozart in that particular scene, for instance, the film director joked again. When asked about the meaning of silence in his films, he replied: silence is a part of music itself, and its power is derived precisely from the fact that music begins with silence.
Naturally, there were many questions regarding the film director's attitude to Poland and emphasising its history in his films. The meeting moderator touched on the subjects which have not been discussed in interviews with Paweł Pawlikowski so far, though. When asked about working with Polish cinematographers, the film director commented: Back in the day, when I worked abroad on documentaries, I travelled to Poland on a frequent basis, so those people were no strangers to me. But above all, I did not get on well with the English cinematographers I worked with, though. I would often come up with new ideas, but they always denied them saying it was not the way they worked. They have a certain assumption over there that everyone has their role to play, they are an expert in something, which predetermines that they alone can decide about a particular thing. It was just the other way round with Polish cinematographers, because we instantly had an understanding; we felt ready to do things differently. It was typically Polish, slightly anarchistic approach.
Somebody from the audience asked a question about the conflict currently going through the film community, regarding the values (or lack thereof) contained in blockbusters. Obviously, there is such a thing like good action cinema, which touches on interesting moral and psychological issues. It simply does it in a different way. Another of the most recent topics discussed during the meeting was the case of the Gdynia Film Festival, during which the Directors Guild of Poland expressed their discontent and concern regarding the risk that the Polish Film Institute could cease to be an independent institution. Instead of panicking, we must make films and put a strong emphasis on facts. We must try and organise festivals, where original artists can mark their presence, appealed the filmmaker.
The meeting with the film director was not intended to promote his latest film work. Paweł Pawlikowski did not fail to ask a humorous question, whether the audience attending the meeting had had a chance to see his Ida. Both Ida and Cold War were not frequent subjects of the discussion with the director, which predominantly focused on the artist's approach to art and his technique. Nonetheless, it was impossible not to refer to his Academy Award-winning films. The film director commented on the many controversies regarding the reception of Ida by audiences and their political connotations, back in 2013. He also hinted at minor differences in how his films were received by viewers in Poland and in other countries. Paweł Pawlikowski revealed that his successive project would also concern Poland during a certain period of its history. I am going back further and further. I find the present quite terrifying.
Anna Tomaszewska