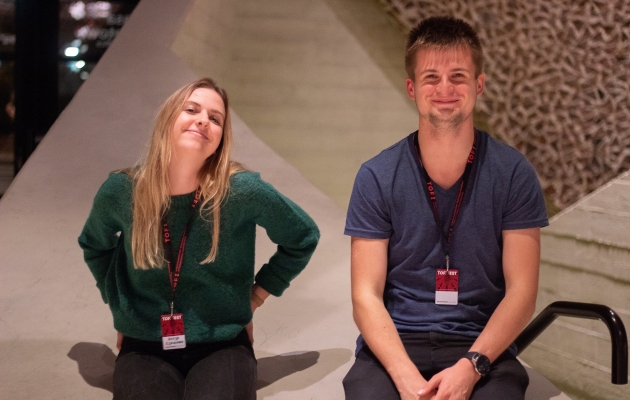 Organisational experience, a strong item on a list of professional experience in your CV, expanding your contact database with people from the world of cinema and the media, unforgettable moments and long-time friendships — you can gain all that and more by becoming a volunteer at the 18th edition of Tofifest. Kujawy Pomorze Region, which takes places from 17th October to 25th October, in Torun.
This festival is created by people with passion, capable of infecting others with it. We work with the best organisers of shows and music concerts, logisticians, event producers, assistants of guests, and people responsible for contacts with the press, radio, and television. Working with us, you will learn just how much it takes to make a festival happen. And also the taste of the satisfaction that such a festival brings.
What we can offer is working with a team full of committed and always smiling people. This job is not about making coffee or rushing with letters to a post office, not at all. What you get is actual work and a bonus, which is an opportunity to see films, most of which have not yet premièred in Poland.
What does it take to become one of our volunteers? It's all very simple. To become part of the Tofifest Team, apply using the form available on www.tofifest.pl/wolontariat.
The deadline for submitting applications ends on 25th September.
It's worth filling in the form, because...
the Tofifest International Film Festival is one of the most important film events in Poland. Tofifest is called a "rebellious festival," as it focuses on films, which ask uncomfortable questions about the world we live in and the modern man. The following people have already been guests to the festival: Jim Sheridan, Jiri Menzel, Geraldine Chaplin, Ulrich Seidl, Emanuelle Seigner, Krystyna Janda, Jerzy Stuhr, Janusz Gajos, Wojtek Smarzowski, and many, many others.
In addition, working as a volunteer brings about a number of advantages, including active participation in creating a film event on an international scale, the possibility of meeting some of the most interesting cinema celebrities face to face, and also working with a team of professionals. When off work, a volunteer can also take part in film screenings, meetings with filmmakers, or other events that accompany the festival, free of charge.
Do not think twice and fill in the form right away.
The 18th edition of the Tofifest International Film Festival. Kujawy Pomorze Region will take place from 17th October to 25th October, 2020, in Torun. You can find more information on our website.