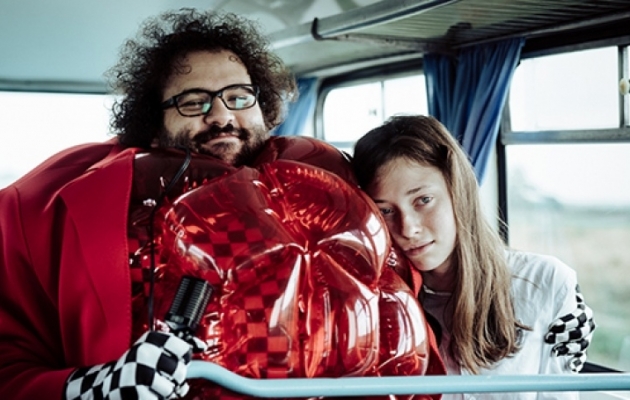 Shortcut. The Shortcut International Competition of Short Films is a unique sections dedicated to the films little in form but great in meaning, all of which will be competing for a statuette of the Golden Angel during the 18th edition of the Tofifest International Film Festival. Kujawy Pomorze Region.
Films from all around the globe will be featured in the competition, representing various genres, discussing burning problems, but also trying simply to amuse the audience and make them forget their everyday troubles for a little while. All of them certainly have one thing in common: the quality and rebelliousness that we in Torun have seen as essential for so many years.
This year, the number of submissions for this competition has exceeded 2,500 films from all around the world! The long and tedious selection carried out by Szymon Zdziebło, curator of this section, leaves no room for any doubt that the jury will have a long and turbulent session ahead of them. The majority of the films qualified for this section will have their Polish premières.
A real treat of this section will be the screening of Alicja i żabka / Alice and the Frog, a film directed by Olga Bołądź, which discusses the issues of abortion in a balanced and mature manner. You will also have a chance to see the winner of the Silver Bear Award at Berlinale IFF – Filipiñana, about a "tee-girl", who passes golf balls to players, and the winner of the Silver Hobby Horse at the Krakow Film Festival, Własne śmieci / Your Own Bullshit, directed by Daria Kopiec, in which we see a very unusual family dinner. Nad Wisłą / Beside the Vistula River, a film by Agata Korycka, which has gained a lot of publicity, has also been included in this section. Naturally, this section would be incomplete without Ostatnia wieczerza / Last Supper, the new film by a master of animated films Piotr Dumała, and Ostatnie dni lata / Last days of summer, directed by Klaudia Kęska, about a seasonal female worker at a local vineyard, who is brutally attacked. This section's programme also includes the winner of the Teddy Award at Berlinale for the best film with LGBT topics, Playback, from Argentina, about a transgender woman, who survived her struggle with HIV, or We Have One Heart by Katarzyna Warzecha, a film about Adam, who, after the death of his mother, discovers letters his parents wrote to each other.
This year, the films featured in the competitions include some, which have already circulated through many international festivals, for example in: Cannes: Agapé from Hungary, about a teenage cinema enthusiast and a lonely woman in her forties; Bird's Song about Ibrahim, a caretaker at a school of art; Contraindications from Romania, about a woman having second thoughts on her divorce; I Want to Return Return Return from Germany, about remembering Berlin from the past; Community Gardens from Lithuania, about a relationship between father and son; Nobody Said I Have to Love You from Slovenia, about Alexander, who forces his son to go for a music lesson; The Lamb of God from Portugal, about a family with strong ties; Pile from Great Britain, which shows how complicated our world is really becoming; Twenty from South Korea, about teenagers having fun; Tamou from Israel, about a lonely housewife; Venice: Entre tú y Milagros from Columbia, about a teenager experiencing the death of a person close to her; The Shift from Portugal, about Anna performing contract work; Locarno: All The Fires the Fire from Greece, about the relationship between people and birds; Berlin: Écume from Canada, about a car wash about to be closed down, Filipiñana, Girl and Body from Australia, about a young female dancer collapsing during a rehearsal, How to Disappear from Austria, about an on-line war game, Huntsville Station from the USA, about prisoners released on parole, Playback, So we live from Belgium, about a family living a country caught in the middle of a war, Stump the Guesser from Canada, about a man knowing answers to all questions, Union County from the USA, about a boy involved in a detox treatment somewhere in a countryside in Ohio; Rotterdam: Landscape with Two Oaks from The Netherlands, about an introvert mending his broken heart; and Copenhagen: The Wedding Cake from Sweden, about a woman forced into prostitution.
Winners of the competition will be announced on 24th October, during the Closing Ceremony of the 18th edition of the Tofifest International Film Festival. Kujawy Pomorze Region.
This year's edition of the Festival will be held from 17th October to 25th October, in Torun, of course. It will have a hybrid nature, combining both stationary and on-line film screenings. Rest assured that one thing remains unchanged: the Tofifest International Film Festival will be a great feast for all cinema enthusiasts, both those coming to visit Torun in October and those sitting in front of their screens at home. Just as it is every single year.
List of qualified films
Alicja i żabka dir. Olga Bołądź, Poland 2020, 29'
Agape dir. Mark Beleznai, Hungary 2020, 16'
Contraindicatti dir. Lucia Chicos, Romania 2019, 18'
Ecume dir. Omar Elhamy, Canada 2020, 28'
Entre tu y Milagros dir. Mariana Saffon, Colombia 2020, 20'
Filipinana dir. Rafael Manuel, Great Britain 2020, 24'
Genius Loci dir. Adrien Merigeau, France 2020, 16'
Girl and Body dir. Charlotte Mars, Australia 2019, 18'
How to Disappear dir. Total Refusal, Austria 2020, 21'
Huntsville Station dir. Chris Filippone, Jamie Meltzer, USA 2020, 14'
I Want to Return Return Return dir. Elsa Rosengren, Germany 2020, 30'
Kolektyvinial sodai dir. Vytautas Katkus, Lithuania 2019, 15'
Landschap met Twee Eiken dir. Thomas Stokmans, The Netherlands 2020, 13'
Le chant de l'oiseau dir. Sarah Imsand, Switzerland 2019, 19'
Nad Wisłą dir. Agata Korycka, Poland 2020, 35'
Nihce ni rekel, da te moram imeti rad dir. Matjaz Jamnik, Slovenia 2019, 18'
O Cordeiro De Deus dir. David Pinheiro Vincente, Portugal 2020, 15'
Oles oi Foties i Fotia dir. Efthimis Kosemund Sanidis, Greece 2019, 24'
Ostatnia wieczerza dir. Piotr Dumała, Poland 2019, 13'
Ostatnie dni lata dir. Klaudia Kęska, Poland 2020, 28'
Pile dir. Tobry Auberg, Great Britain 2019, 3'
Playback. Ensayo de una despedida dir. Augustina Comedi, Argentina 2020, 14'
Seonginsik reż. Kim Min-Ju, South Korea 2020, 22'
So We Live dir. Rand Abou Fakher, Belgium 2020, 16'
Stump the Guesser dir. Guy Maddin, Canada 2020, 19'
Tamou dir. Tzor Edery, Israel 2020, 10'
The Shift dir. laura Carreira, Portugal 2020, 9'
The Wedding Cake dir. Monica Mazzitelli, Sweden 2020, 4'
Union County dir. Adam Meeks, USA 2020, 14'
We Have One Heart dir. Katarzyna Warzecha, Poland 2020, 11'
Własne śmieci dir. Daria Kopiec, Poland 2020, 6'