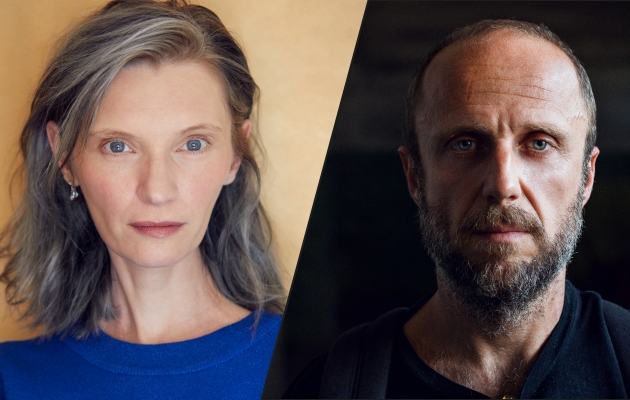 Versatile and rebellious. These are definitely some of the qualities that Agata Buzek and Łukasz Simlat, this year's winners of the Golden Angels of Tofifest, possess. The Tofifest International Film Festival. Kujawy Pomorze Region awards the Angels to artists, who walk their own path and never give in to any moulding or trends.
- The artists receiving this year's Golden Angels for Artistic Insolence, which is the highest prize this festival has to offer, share more than just a spirit of artistic independence and talent: they are extraordinarily hard-working. They keep away from colourful tabloids and refrain from using fine words. They are consistent, talented, and unique. They remind us what true acting is really about, says Kafka Jaworska, director of Tofifest. Kujawy Pomorze Region.
Agata Buzek mesmerises the audiences with both her strong personality and intriguing, very unique looks. She is also a much respected person among other artists for her consistent and uncompromising attitude towards her professional career. She has been developing her acting skills for many long years, while carefully selecting each production she participates in.
- She combines talent, beauty, and determination. And it actually does not require any further explanation of the reasons for presenting this highest of our awards to Agata, adds Kafka Jaworska.
Her talent has been recognized by the great Polish and foreign directors, juries of film competitions and, most importantly, by the audiences. She has worked with such renowned artists as Peter Greenaway, Marleen Goris, Krzysztof Zanussi, Andrzej Wajda, Steven Knight, Anne Fontaine, Claire Denis, or Peter Mullan. She was nominated for the Polish Academy Awards: Eagles for her performance as Klara in The Revenge directed by Andrzej Wajda. She received Best Actress Award at the 34th Polish Film Festival in Gdynia and the Polish Academy Award: Eagle for the part she played in Reverse (Polish candidate for Academy Awards), directed by Borys Lankosz.
Agata Buzek also spares no effort in fighting for a better world. She is a co-founder of the Arteria Foundation (www.arteria.art.pl), which undertakes projects combining art, social needs, and education. She was an observer during the first democratic presidential elections in Ukraine. The actress also supports the Solidarity with Belarus project and is an ambassador of the Polish Humanitarian Action involved in building wells in Sudan. She has been cooperating with the Viva foundation fighting for animal rights. She has saved two unique dogs, Brysia and Mambo, from an animal shelter. Agata Buzek was born and grew up in Gliwice. She was raised to respect such qualities as hard work, open-mindedness, and honesty, which are clearly manifested in any activity she gets involved in.
- Łukasz Simlat is one of those actors, who would have already received an Oscar, had he been born in Hollywood. He is a horribly talented person and one of the busiest Polish actors, who are not afraid to take on challenging roles. He has always been faithful to the big screen and it will stay this way, it seems, comments Kafka Jaworska.
Łukasz Simlat has won numerous awards for his artistic and theatrical achievements. He made his screen début in 2000, playing a supporting character in the TV series Dom. He continued to play more important roles in full-length films and TV series for a period of time (for example in the TV series Warszawa or Oficer). He has created memorable characters in many feature films, such as: Wszyscy jesteśmy Chrystusami / We're All Christs (directed by Marek Koterski), Hania (directed by Janusz Kamiński), Lincz / Lynch (directed by Krzysztof Łukasiewicz), Odwaga / Courage (directed by Greg Zgliński), Zjednoczone Stany Miłości / United States of Love (directed by Tomasz Wasilewski; in 2016, the film brought him an award for best supporting role), Amok (directed by Kasia Adamik; in 2017, the film brought him the Golden Lion Award at the Gdynia Film Festival for best supporting male character), Kamerdyner / The Butler (directed by Filip Bajon), 7 uczuć / 7 Emotions (directed by Marek Koterski), Fuga / The Fugue (directed by Agnieszka Smoczyńska; the film brought him an award for best male character at the New Horizons Film Festival in Wrocław). Two other films featuring Łukasz Simlat have recently hit cinemas, i.e. (Nie)znajomi (directed by Tadeusz Śliwa) oraz Boże Ciało / Corpus Christi (directed by Jan Komasa) – the latter of which was the Polish candidate for Academy Awards in the Best Foreign Language Film category. The film brought him the Polish Film Award: Eagle for best supporting male character. For his performance in Żelazny most / The Iron Bridge (directed by Monika Młodzianowska), in which he played one of the leading characters, Łukasz Simlat received the Golden Puppy Award for best male character at the Tadeusz Szymkow Film Acting Festival. In 2020, he created one of his most important roles in Śniegu już nigdy nie będzie / Never Gonna Snow Again (directed by Małgorzata Szumowska), the latter of which is the Polish candidate for Academy Awards in the Best Foreign Language Film category.
This year, the Flisak Award given by the President of Torun to artists connected to our region goes to Roma Gąsiorowska.
Roma Gąsiorowska was born in Bydgoszcz, in 1981. Together with a couple of her friends, she started an amateur theatre, as early as in the secondary school. She is a graduate of the AST National Academy of Theatre Arts in Krakow. She made her début in film and television, while still studying. In 2003, she started a cooperation with Teatr Rozmaitości (Variety Theatre) in Warsaw and worked with such renowned theatre directors as Grzegorz Jarzyna, Przemysław Wojcieszek, René Pollesch, Kornél Mundruczó, Mikołaj Grabowski, or Michał Borczuch, and many others. He screen début came with the comedy Pogoda na jutro / Forecast For Tomorrow directed by Jerzy Stuhr. A year later, in 2004, she played in the multi award-winning short film 3 Love by Agnieszka Smoczyńska. In 2006, she performed in Oda do radości / Ode to Joy, which marked her first role well received by film critics. In 2009, she was nominated for the Zbigniew Cybulski Award. That same year, she performed in one of her most important roles to date, in the film Wojna polsko-ruska / Snow White and Russian Red directed by Xawery Żuławski, which brought her the Golden Puppy Award for a supporting female character. Her acting creation in Ki / My Name is Ki by Leszek Dawid brought her the Golden Lions Award for the leading female character. She also played in Sala samobójców / Suicide Room (2011), directed by Jan Komasa, in which she created a superb screen duo with Jakub Gierszał. She was frequently cast for comedy characters in films, which later turned out to be great box-office successes for Polish cinemas, such as Listy do M. / Letters to Santa
(2011) and Listy do M. 2 / Letters to Santa 2 (2015), and others. She also played in the following TV productions: Plan B , directed by Kinga Dębska; Ciemno, prawie noc / Dark, Almost Night, directed by Borys Lankosz and Serce nie sługa, directed by Filip Zylber. In 2012, she started AktoRstudio, her own private acting school. The school provides courses in acting for adults, young people, and children, conducted by Roma Gąsiorowska and other actors.
This year's edition of the festival will be held from 17th October to 25th October, naturally in Torun. It will have a hybrid nature, combining both stationary and on-line film screenings. Rest assured that one thing remains unchanged: the Tofifest International Film Festival. Kujawy Pomorze Region will be a great feast for all cinema enthusiasts, both those coming to visit Torun in October and those sitting in front of their screens at home. Just as it is every single year.