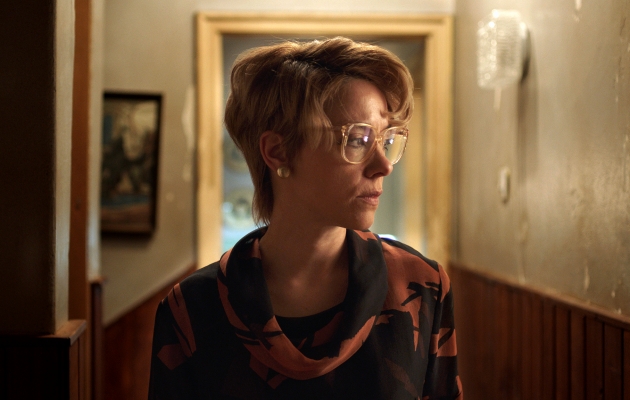 We have selected the best seven films to be featured in the ON AIR Main Competition at the 20th edition of the Tofifest International Film Festival. Kujawy Pomorze Region. The International Competition for the best début or sophomore full-length film is definitely something you cannot miss during the festival. This section is what determines the thematic direction our festival takes.
This year, the jury in the On Air Competition will consist of the finest representatives of Polish cinema. The films selected for the competition by festival director Kafka Jaworska will be evaluated by the following artists:
Katarzyna Klimkiewicz, a film director, who can boast about cooperating with Helen McCrory - a true legend of international cinema. She makes films both in Poland and abroad. Her latest film production - 'Bo we mnie jest seks / Autumn Girl' - offers a somewhat not-so-obvious perspective of the Polish actress Kalina Jędrusik, and it was applauded both by film critics and audiences.
Marcin Bortkiewicz is a film director with a unique gift: he has a peculiar intuition, when it comes to casting. No wonder, since he himself has proven his acting talent in many roles. Among the films he has directed so far, you will find 'Noc Walpurgi / Walpurgis Night', featuring Małgorzata Zajączkowska in the leading role, who still remains the only Polish actress to ever have worked with Woody Allen.
Grażyna Błęcka-Kolska is a popular and recognised film actress, who is above all loved by the audiences for the expressive portrayals of strong-willed women in the films directed by Jan Jakub Kolski.
Adam Woronowicz is an actor, who can be equally convincing and versatile when cast in a comedy or drama. He is a true chameleon of an actor, and he can handle just about any acting challenge you'd throw at him.
Magdalena Czerwińska is an actress born in Toruń. Throughout her career, she has worked with some of the greatest Polish film directors. She has played memorable roles in films directed by Xawery Żuławski, Michał Otłowski, Borys Lankosz, or Wojciech Smarzowski.
This year, the Main Competition will include films that will either have their premières, or pre-release screenings in Toruń. We will also respect gender parity, as four out of the seven films to be screened during the competition are films directed by women.
All seven films are truly uncompromising, bold, perverse, surprising in terms of their stylistic choices, and often discuss very sensitive subjects. The directing talent showcased by the film directors in this section is in itself a testimony to their immense imagination and skills.
The following films will compete for the Golden Angel Award:
Olga dir. Elie Grappe
Switzerland, France, Ukraine 2021, 85'
2013. Olga is a 15-year-old passionate Ukrainian gymnast. Exiled in Switzerland, she does her best to fit into the national team. But the Euromaidan revolt erupts in Kiev, suddenly involving everyone she cares about. As the young girl prepares the European Championship, the revolution enters her life and shakes everything up on its way…
Blessed Boys / La santa piccola dir. Silvia Brunelli
Italy 2021, 97'
In a sunny district of Naples where everyone knows each other, Mario and Lino, two inseparable friends, live day by day in the monotony of neighborhood life. Until everything changes: Annaluce, Lino's little sister, starts to make miracles and becomes the patron saint of the district. For both of them, the unthinkable happens, a door opens to a new world that will lead them to take different paths, risking everything, even the most important thing they have: their fraternal friendship.
Celts / Kelti dir. Milica Tomović
Serbia 2021, 106'
In Belgrade, 1993 Marijana throws a costume party for her daughter's 8th birthday, with family and fellow parents attending. Grabbing the rare opportunity when their children are kept entertained in the other room, the parents open a few bottles in the kitchen and enjoy their reunion. Marijana suddenly realizes that she longs for more than a bunch of drunken guests and an inattentive husband, so she sets out to discover the thrills the night has to offer. She sneaks out of the house strolling around the empty streets, seeking genuine experiences instead of mere substitutes. While she reaches an orgasm and smokes a cigarette with a stranger, the party slowly disperses, just like Yugoslavia, the country Marijana and her friends were all born in.
Somewhere Over The Chemtrails / Kdyby radši hořelo dir. Adam Koloman Rybanský
Czech Republic 2022, 85'
Clumsy Standa and recently widower Bronya are volunteer firefighters in a small village where they enjoy a quiet and peaceful life. Things begin to change when a van crashes into a crowd of people during the Easter Fair. Before anyone notices, the driver runs away from the car crash. People believe it is a terrorist attack and the festive mood is replaced by an atmosphere of fear, hatred, and misinformation. Bronya, who is convinced of terrorism, is trying to do something to improve the situation. The sense of danger pumps new blood into his veins, and the fire brigade becomes a militia. Director Adam Koloman Rybanský's confidently told and rhythmically compelling debut examines the mechanisms of racism and exclusion in the microcosm of a village. At the same time, he takes a loving and humorous look at human weakness, revealing a deeply humanist worldview.
Amparo dir. Simón Mesa Soto
Columbia, Sweden, Qatar, 2021, 95'
Colombia 1998. After a long night's shift, Amparo, a single mother of two, returns home to find her children are not there. She soon finds out that her son has been drafted during an army raid and will be sent to the front in a notorious war zone near the border. His fate seems sealed. With only a single day left until his departure, Amparo manages to contact a man who offers to alter Elias' files and get him out. With nothing much on her side, she embarks on a race against time to free her son in a society ruled by corruption.
A Feature Film About Life dir. Dovilė Šarutytė
Lithuania, USA 2021, 100'
Dovile's life is shaken by her father's death. But there is no time to mourn as she must urgently organize the funeral. Trying to make it perfect, Dovile takes care of every detail and finds herself in increasingly curious situations. Her childhood memories are chasing her up… Dealing with her father's funeral problems works as a kind of therapy for Dovile and helps to leave her gloomy thoughts behind. And the joy of "successful" event overshadows her mourning, if only temporarily. This paradox is the dramatic axis of the story. Although the starting point of the movie is death, it's a story about those who continue to live.
Happening dir. Audrey Diwan
France 2021, 100'
This is the story of Anne, a young woman who decides to abort to finish her studies and escape the social constraints of a working-class family. France in 1963: a society that censures women's desires. And sex in general. This simple but cruel story follows the itinerary of a woman who decides to go against the law. Anne has only a little time before her. Her exams are just around the corner, and her baby bump is growing fast.