Whisper of Sin
Nuodėmės užkalbėjimas · dir. Algimantas Puipa
Lithuania 2007, 98'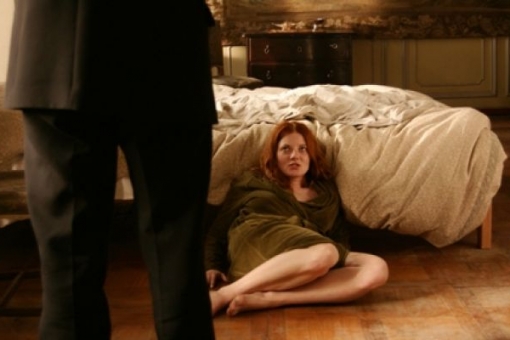 Screenings
06/29, 10:30 · Baj Pomorski – hall A
07/01, 13:00 · Baj Pomorski – hall B
Trailer
The script is based on the bestselling novels by the writer Jurga Ivanauskaite, which have also been translated into other languages — Witch and Rain, Placebo and Gone with the Dreams.
This mystical, psychological drama tells about Vika and her love attachments, starting with Priest Paulius, a man torn by an inner conflict between his vows and his lust for the woman he met while caring for her husband in an insane asylum. Priest's attempt to break the affair sends Vika on a quest for vengeance. She indulges in sleazy sex with strangers in an abandoned building of Vilnius Old Town and confesses her Vika and those around her are on a modern-day search for spiritual harmony. The quest, though elusive, dissolves the usual boundaries between sanity and insanity.
| | |
| --- | --- |
| Director: | Algimantas Puipa |
| Screenplay: | Jurga Ivanauskaitė, Algimantas Puipa |
| Cinematography: | Algimantas Mikutėnas |
| Editing: | Danielius Kokanauskis |
| Cast: | Rasa Samuolytė, Nelė Savičenko, Kostas Smoriginas, Aleksas Kazanavičius, Remigijus Sabulis, Romualdas Ramanauskas |
Algimantas Puipa was born in 1951 roku in Antaliepte (formerly in the Soviet Union, now in Lithuania). He is one of the most outstanding directors in Lithuania. His films have won a great number of awards at international film festivals.
Filmography (selected):
2007 – Nuodėmės užkalbėjimas / Whisper of Sin
2005 – Forest od the Gods / Las bogów
2002 – Three Lovers, or the Last Day
1999 – Elze's Life
1997 – Vilko dantų karoliai
1995 – Žaibo nušviesti
1994 – Ašarų pakalnė
1989 – Žuvies diena
1985 – Elektroninė senelė
1981 – Arkliavagio duktė
1975 – The Day or Retribution