Caissa (trailer)
Caissa (trailer) · dir. Marcel Woźniak
Poland 2011, 5'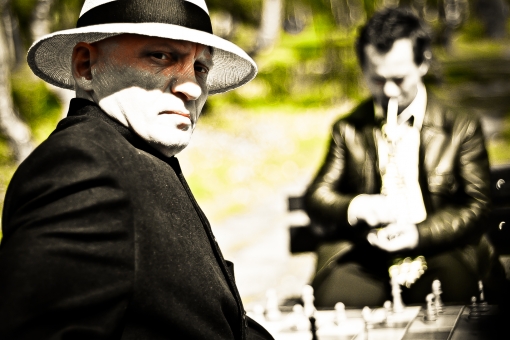 Screenings
06/27, 19:30 · Baj Pomorski – hall B
It is a short parable about life, presented as a game — its board is the urban maze of Torun. Caissa is a mythical dryad, depicted as the Goddess of Chess. Kuba and Tomek — two old friends, meet after many years to have a final match and fight for Caissa. The character of goddess Caissa was connected with chess in the Caissa or the games of chess — a poem by William Jones, an author from the 18th century. The screenplay based on the poem won the First Prize in the competition organised by the Multi Art Academy in Krakow.
| | |
| --- | --- |
| Director: | Marcel Woźniak |
| Screenplay: | Marcel Woźniak |
| Music: | Piotr Zawałkiewicz (DJ Ike), Piotr Wypych |
| Cinematography: | Łukasz Bieńkowski, Radosław Naworski |
| Editing: | Paweł Żydowicz |
| Cast: | Krystian Wieczyński, Radosław Smużny, Anna Sawicka-Borkowicz, Paweł Tchórzelski, Anna Milczarczyk, Leonard Cebo |
Marcel Woźniak (born in 1984) — director, actor, journalist and author of screenplays. He has collaborated with the IFF Tofifest for many years. At present, he is the editor-in-chief of the Orbitorun.pl website.