Ostatni telefon
Ostatni telefon · dir. Marcin Gładych
Poland 2010, 14'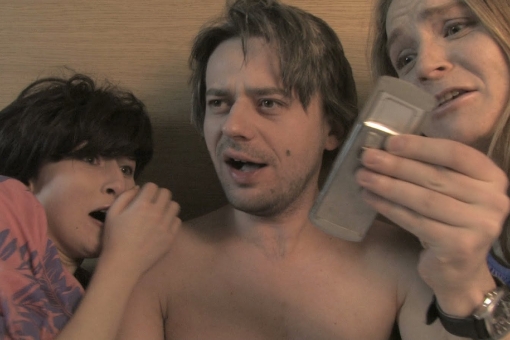 Screenings
06/27, 19:30 · Baj Pomorski – hall B
It is the first episode of a deeply underground series. The film is a comedy about a failed joke of a certain traffic police officer.
According to the author Marcin Gładych, the entire series will have between ten and twenty episodes, connected with each other, in an unusual way — a character from each episode plays in the successive episode. The author of the screenplay for the next part of the series select the protagonist that is "transferred" from the previous one.
| | |
| --- | --- |
| Director: | Marcin Gładych |
| Cast: | Radosław Garncarek, Grzegorz Woś, Matylda Podfilipska |
Marcin Gładych was born in 1967, in Torun. He is an independent director and scriptwriter. He is the winner of the "Flisak TOFIFEST" Film Award of Kujawsko-Pomorskie Province and an author of graphic and multimedia work. Together with Paweł Jaworski, he created the International Diaskop Film Festival — an unconventional artistic and film event. His love affair with films started in 2007, when he directed Gyom, Tat, E(eeee)tam — a multimedia philosophical spectacle, based on the tales by Leszek Kołakowski. He collaborates with the actors of the Wiczy Theatre in Torun. As of now, Gładych is working with Krystian Wieczyński, on Panopticon — a film that will tell a story of an ideal prison, using the example of the legendary "Okrąglak" Remand Centre, located in the very centre of the Old Town in Torun.