Warszawiak, Tubylec i Maciuś
Warszawiak, Tubylec i Maciuś · dir. Paweł Słomkowski
Poland 2010, 30'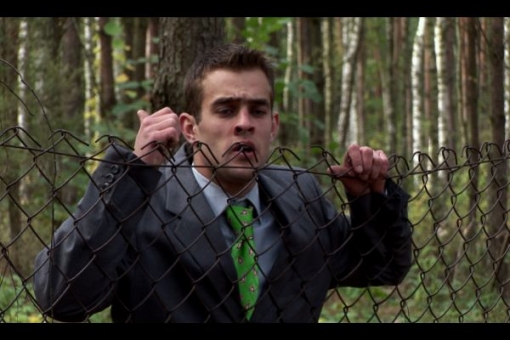 Screenings
06/28, 15:30 · Baj Pomorski – hall B
Trailer
Warszawiak... is a tragicomic story with Adam Aksamit as the leading character. He portrayed Damian, a young office worker from Warsaw. One day, Damian goes to his uncle's plot. He is in so much rush that he takes the wrong keys. When faced with the need to return to Warsaw, he is saved by Waldek, a local "native", who offers him a place to put up a tent. Their relation becomes much more friendly, when they go fishing together, make fire and drink some alcohol. But the tragedy is impending.
| | |
| --- | --- |
| Director: | Paweł Słomkowski |
| Screenplay: | Paweł Słomkowski |
| Cinematography: | Filip Zubowski |
| Editing: | Paweł Słomkowski |
| Cast: | Adam Aksamit |
Paweł Słomkowski was born in Bydgoszcz. He is an independent director, actor and screenwriter. His films are characterised by a well-thought structure and saturated with hidden emotions. Słomkowski presents seemingly ordinary events with unexpected endings and forces us to reflect on life. In the years 2006-2010, he directed a series of short films: Belwederska 14, Mario, Kiedyś wydawała się inna, Przyjazd pociągu na stację and Warszawiak, Tubylec i Maciuś. He also made SMS — a documentary showing the sad practice of making big money on people's naivety, using mobile phone flirting applications.