Black Venus
Vénus Noir · dir. Abdellatif Kechiche
France 2010, 159'
Polish premiere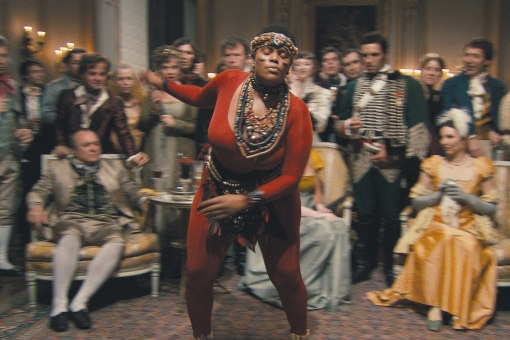 Screenings
06/25, 16:45 · Baj Pomorski – hall A
Trailer
It's 1910, when Saartjie Bartman, a 20-year-old black woman, and Cesar, her English boss, leave their home in the Republic of South Africa, pursuing a better life in London. The job was to be nice and easy — Saartije's dream was to become an actress. She performs as the Hottentot Venus in quasi-theatrical shows, presenting her body to the British audience. Her physical appearance — big buttocks and large labia — draw much attention. Initially, she remains under the patronage of Cesar, giving performances in circus shows. Her fortune changes dramatically, when Cesar is accused of violating the law against slavery. Saartije is sold and Réaux, a French animal trainer, becomes her new boss. When in France, the shows of the Hottentot Venus become more spicy, slowly turning into an egalitarian and perverse sexual orgy.
Black Venus is a story based on facts. It is an extremely shocking, moving and cleverly arranged film portrait, inspired by the true story of Saartije Bartman, who becomes a symbol of the oppression and humiliation of the black people in Europe.
| | |
| --- | --- |
| Director: | Abdellatif Kechiche |
| Screenplay: | Abdellatif Kechiche |
| Music: | Slahheddine Kechiche |
| Cinematography: | Lubomir Bakchev, Sofian El Fani |
| Editing: | Ghalia Lacroix, Albertine Lastera, Camille Toubkis |
| Cast: | Yahima Torrès, Andre Jacobs, Olivier Gourmet, Elina Löwensohn, Francois Marthouret, Michel Gionti, Jean-Christophe Bouvet |
| Awards: | Equal Opportunity Award – MFF w Wenecji / Equal Opportunity Award – IFF in Venice (2010) |
Abdellatif Kechiche — born in 1960, in Tunisia. He started his career as an actor in cinema and theatre, then taking up directing. In 1984, he was given the leading role in a full feature, titled Mint Tea. Following that, he played in Bezness, by Nouri Bouzid and Les Innocents, by André Téchiné. In 2000, he wrote the screenplay and directed his first film, titled Blame it on Voltaire, which was awarded with the Golden Lion in the Best Debut category, at the IFF in Venice. In 2003, he made another film — Games of Love and Chance. His next film was The Secret of the Grain, for which he has been both the author of screenplay and director.
Filmography:
2010 – Czarna Wenus / Black Venus / Vénus Noir
2007 – Tajemnica ziarna / The Secret of the Grain
2003 – Unik / Games of Love and Chance
2001 – Wina Woltera / Blame it on Voltaire