White White World
Beli Beli Svet · dir. Oleg Novković
Germany, Sweden, Serbia 2010, 100'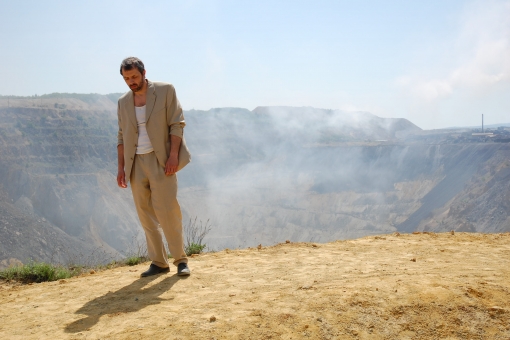 Screenings
06/25, 22:15 · Baj Pomorski – hall A
Trailer
In the town of Bor, a deteriorating mining center in southeast Serbia, lives King. He is a man of about 40, once a miner, now a local bar owner, a solitary man answering only to himself and living only for what today might bring, without regrets or ever looking back. His one love is his mighty motorcycle, his only means of escape from the hopelessness of his surroundings.
He was once involved with Ruzica, the town beauty and the wife of his boxing coach and mentor Animal. When Animal found out about their affair and flew into a murderous rage, Ruzica killed him. She went to jail; King went abroad, returning a few years later on the bike with enough money to open the bar.
| | |
| --- | --- |
| Director: | Oleg Novković |
| Screenplay: | Milena Marković, Oleg Novković |
| Music: | Dejan Pejovic |
| Cinematography: | Miladin Čolaković |
| Editing: | Boris Kovač |
| Cast: | Uliks Fehmiu, Hana Selimović, Jasna Djurišić, Nebojša Glogovac, Boris Isaković, Milica Mihajlović, Marko Janketić, Meto Jovanovski |
Oleg Novković — born in Belgrade in 1968. He graduated from the faculty of Dramatic Arts in Belgrade. He is one of Serbia's "New Filmmakers", who has dedicated his films to specific social themes and the criticism of society where emphasis is laid on the violent passions of "ordinary people" caught in the cruel times of transition and a grave crisis of moral values.
Filmography:
1991 – Pomračenje
1993 – Dlaczego mnie opuściłeś / Why have you left me
2001 – Normalni ludzie / Normal People
2005 – Rudarska opera / Miner's Opera
2006 – Jutro rano / Tomorrow Morning