Wait for Me and I Will Not Come
Čekaj me, ja sigurno neću doći · dir. Miroslav Momčilović
Serbia 2009, 90'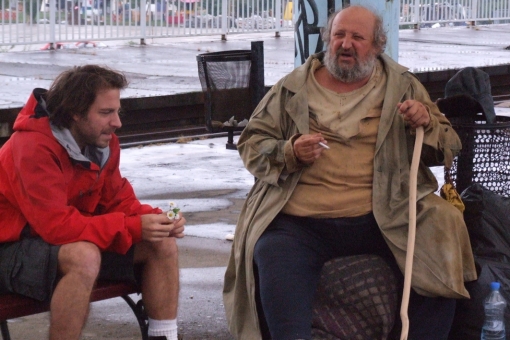 Screenings
06/30, 14:15 · Kino Centrum
Trailer
Alek is desperate because Teodora left him after a three-year relationship. He holds self-pitying sessions with his friend Bane every day. Despite Bane's advices, Alek keeps calling Teodora who has fallen in love with Nemanja in the meantime. The problem is that Nemanja is not in love with her but with Marina. Unfortunately, Marina is not in love with him, she is very attracted to Alek's "Slavic desperation". Every single one of them would give anything in the world to be with the one who does not want him/her at that moment. Everyone is hard as a rock to the one who he/she does not care about, and simultaneously soft as cotton to the one he/she wants to seduce...
| | |
| --- | --- |
| Director: | Miroslav Momčilović |
| Screenplay: | Miroslav Momčilović |
| Music: | Vladimir Divljan |
| Cinematography: | Dušan Joksimović |
| Editing: | Predrag Bogojević |
| Cast: | Miloš Samolov, Mirjana Karanović, Gordan Kičić, Milica Mihajlović, Branislav Trifunović, Vanja Ejdus, Petar Božović, Jelena Djokić, Danica Maksimović |
Miroslav Momčilović — graduated in dramaturgy at Faculty of Drama Arts, Belgrade. He is the writer and director of the film Seven and a Half, film that had rich International festival life. He is also the author of screenplay for the film When I Grow Up I'll Be a Kangaroo, directed by Radivoje Andrić.