Honeymoons
Medeni Mesec · dir. Goran Paskaljević
Serbia, Albania 2009, 95'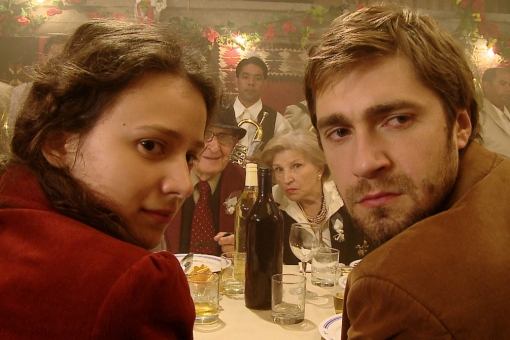 Screenings
06/29, 21:30 · Baj Pomorski – hall B
Trailer
The story of "Honeymoons" is set in contemporary Albania and Serbia. We follow the fortunes of two young couples who decide to leave their respective home countries in search of a better life in Western Europe. When the Albanian couple, after all sorts of incidents, arrives in the Italian southern port, their problems start. The same fate awaits the Serbian couple when they enter European Union by train at the Hungarian border. Despite the fact that they have nothing to do with the incident that occurred in Kosovo in which two Italian UN soldiers lost their lives, they are arrested at the border and suspected due to unfortunate coincidences.
| | |
| --- | --- |
| Director: | Goran Paskaljević |
| Screenplay: | Goran Paskaljević, Genc Permeti |
| Music: | Rade Krstic |
| Cinematography: | Milan Spasić |
| Editing: | Petar Putniković |
| Cast: | Nebojša Milovanović, Jelena Trkulja, Jozef Shiroka, Mirela Naska, Bujar Lako, Yllka Mujo, Petar Bozović, Lazar Ristovski, Fabrizio Buompastore, Domenico Mongeli, Aron Balas |
| Awards: | Najlepszy Film z Europy Środkowej i Wschodniej – MFF w Cleveland / Best film for Central & Eastern European – Cleveland IFF (2010); Nagroda Jury – Festiwal Filmu Europejskiego w Les Arcs / Prix du Jury – Les Arcs European FF (2009); Nagroda Publiczności – 50. edycja MFF w Salonikach / The Public Choice Awards – 50th Thessaloniki IFF (2009) |
Goran Paskaljević has made 30 documentaries and 15 feature films, shown and acclaimed at the most prestigios International FF (Cannes, Berlin, Venice, Toronto, San Sebastian). The Museum of Modern Art in New-York (MoMA) presented a full retrospective of his work in January 2008.