Here and There
Tamo i ovde · dir. Darko Lungulov
USA, Serbia, Germany 2009, 85'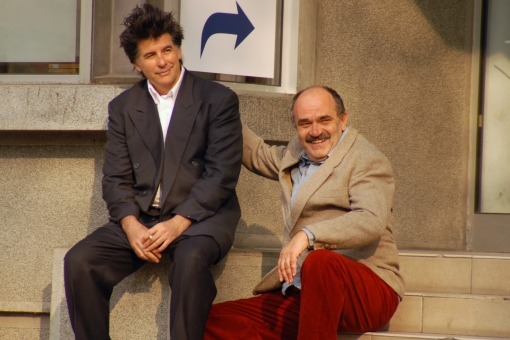 Screenings
06/26, 12:30 · Baj Pomorski – hall A
Trailer
Robert, a jaded middle-aged New Yorker, goes to Serbia to make quick cash by marrying someone for U.S. immigration papers, but the plan goes awry when the promised cash never arrives. At the same time, a young Serbian immigrant, Branko — "man with a van", struggles in a never forgiving New York, desperately trying to bring his girlfriend from Serbia to USA.
"Los Angeles Times" wrote about this film: "«Here and There» is a wisp of a wry comedy but Lungulov's touch is delicate, even piercingly so, and his direction of actors, especially Thornton and Karanović, is beautifully nuanced."
| | |
| --- | --- |
| Director: | Darko Lungulov |
| Screenplay: | Darko Lungulov |
| Music: | Dejan Pejovic |
| Cinematography: | Mathias Schöningh |
| Editing: | Dejan Urošević |
| Cast: | David Thornton, Mirjana Karanović, Branislav Trifunović, Cyndi Lauper |
| Awards: | Best New York Narrative Award – MFF Tribeca / Tribeca IFF (2009); Nagroda FIPRESCI, Najlepszy Reżyser / FIPRESCI Prize, Best Director – Geneva Cinéma Tout Ecran (2009); Nagroda Jury – Ft Lauderdale MFF / Jury Award – Ft Lauderdale IFF (2009) |
Darko Lungulov — born in Serbia, moved to New York in 1991. Graduated from the City College of New York. Moved back to Serbia in 2003. His documentary Escape won the Audience Award at the Hamptons International Film Festival in 2004 and was screened and awarded at many festivals since, including festiwals in: Amsterdam, Leipzig, Belgrade, Santiago de Chile. Script for Here and There was awarded Balkan Fund Script Development Award at Thessaloniki Film Festival in 2006 and won Best NY Narrative Award at its world premiere at Tribeca 2009. Next project, in development, feature film Monument to Michael Jackson is based on a true story.