Tour, The
Turneja · dir. Goran Marković
Serbia, Bosnia and Herzegovina, Croatia, Slovenia 2008, 105'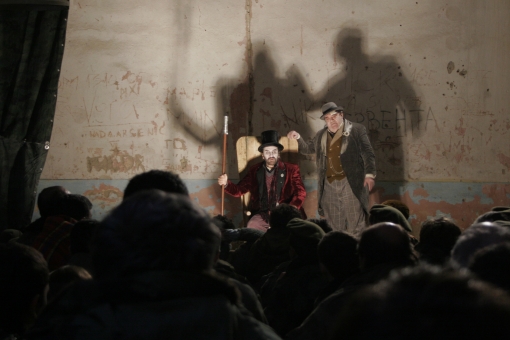 Screenings
06/27, 10:00 · Kino Centrum
Trailer
Year 1993, the bleakest time of war in Bosnia and Herzegovina. A group of actors from Belgrade, utterly unaware of what they're setting themselves up for, embark on a search for quick earnings — on a "tour" around the Serbian Krajina. However, there they are thrust into the heart of war and begin to wander from warfront to warfront, from one army to the next. During their horrible journey they meet Serbian, Muslim and Croatian fighters, are faced with hopeless situations but always seem to work their way out of them. Their naivety, which put them in the midst of these horrific events in the first place, is also what saves them. While putting their acting skills to use, they manage to save themselves from perilous situations they encounter every step of the way.
| | |
| --- | --- |
| Director: | Goran Marković |
| Screenplay: | Goran Marković |
| Music: | Zoran Simjanović |
| Cinematography: | Radoslav Vladić |
| Editing: | Snežana Ivanović |
| Cast: | Tihomir Stanić, Dragan Nikolić, Mira Furlan, Josif Tatić, Gordan Kičić, Jelena Đokić, Slavko Štimac |
| Awards: | Srebrne Pióro – Nagroda Jury Międzynarodowego Konkursu na Film z Najlepszym Scenariuszem – Lato Filmów (2010) / Silver Pen – Jury Award at the International Film Competition for Best Screenplay – Film Summer (2010) |
Goran Marković — son of Rade and Olivera Marković — two highly reputed Yugoslav actors. Studied film directing (1965-1970) in Prague, Czechoslovakia at the Film Academy (FAMU), with professor Zemen. Belongs to the so-called "Czech School" group of Yugoslav directors, which include Goran Paskaljevic, Srdjan Karanovic, Lordan Zafranovic, Rajko Grlic, Emir Kusturica... The same Academy was attended by Milos Forman, Jirí Menzel, Vera Chytilová etc. He made 12 feature films; all of them got major film awards on different festivals in the world. He also directed documentaries and TV films.