Saturday Night and Sunday Morning
Z soboty na niedzielę · dir. Karel Reisz
Great Britain 1960, 89'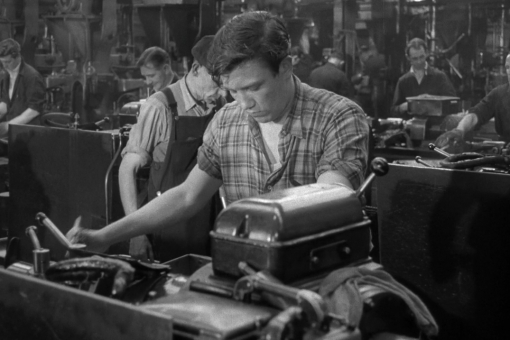 Screenings
06/30, 10:30 · Baj Pomorski – hall A
"All I want is a good time. The rest is propaganda." That's the philosophy of archetypal British "angry young man" Arthur Seaton (Albert Finney). A middle-class working stiff in a dead-end job, Arthur's principal goal in life is to survive the work week, then spend the weekend raising as much hell and drinking as much beer and other liquor as possible. Since pleasure is all that Arthur lives for, he thinks nothing of starting up an affair with the wife of one of his co-workers. His efforts to secure her an abortion when he gets her pregnant stem not out of concern for her but out of his own selfishness: why should he be tied down with a squalling brat? Despite his carousing and his ongoing desire to escape the dull routine of his weekday existence, Arthur is doomed to perpetuate that routine via his marriage to a complacent "nice" girl from his own neighborhood.
| | |
| --- | --- |
| Director: | Karel Reisz |
| Screenplay: | Alan Sillitoe |
| Music: | Johnny Dankworth |
| Cinematography: | Freddie Francis |
| Editing: | Seth Holt |
| Cast: | Albert Finney, Bryan Pringle, Shirley Ann Field, Rachel Roberts |
Karel Reisz (1926-2002) — film director, theoretician and analyst of cinema. He was born in Czechoslovakia, but lived in Great Britain, since he was 13. He became attracted to cinema, soon after coming to the UK. Having completed his military service in the RAF, he started working as a film critic. He was the author of the "Technique of film editing" handbook, much valued among fellow film critics. His films won him the reputation of the most prominent representative of the British "New Wave". In the early 1950s, he was one of the founders of the Free Cinema movement. In the early 1970s, he moved to the United States.
The following films gave him the greatest recognition: French Lieutenant's Woman (1981), Who'll stop the rain (1978), Isadora (1968) and Saturday Night and Sunday Morning (1960). The latter won him the BAFTA Award for the Best British Film.