If Fish Could Talk
Gdyby ryby miały głos · dir. Tomasz Jurkiewicz
Poland 2011, 27'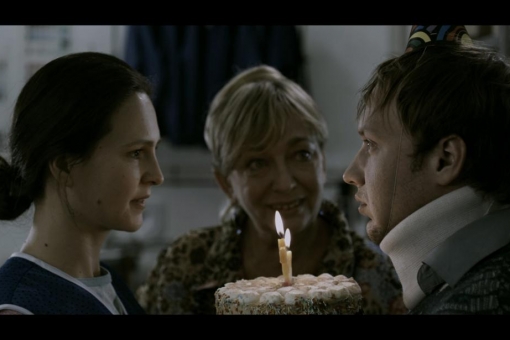 Screenings
06/27, 13:00 · Baj Pomorski – hall B
06/29, 19:30 · Baj Pomorski – hall B
Although he has already turned 30, Wojtek still believes in the legend of a giant fish that lives in a nearby lake. He spends his entire time trying to catch it. His overprotective mother, Wanda, ignores that completely. On the day of her son's birthday, she decides to make his life right: find him a girlfriend, buy a flat and make him a marketing specialist, in her own company that manufactures work clothes. It is a fairy-tale story about the inability to adapt, dreams and sick love.
| | |
| --- | --- |
| Director: | Tomasz Jurkiewicz |
| Screenplay: | Grzegorz Zaleski |
| Music: | Vlad Kuryluk |
| Cinematography: | Kacper Fertacz |
| Editing: | Tymek Wiskirski |
| Cast: | Łukasz Chrzuszcz, Ewa Szykulska, Joanna Gryga, Jerzy Matula, Mirosław Haniszewski |
Tomasz Jurkiewicz (born in 1981) — a graduate of film studies at the Jagiellonian University and directing at the Krzysztof Kieślowski Radio and Television Faculty of the University of Silesia in Katowice. He is an author of many short films and a screenwriter.