Siberia. Monamour
Sybir. Monamur · dir. Slava Ross
Russia 2011, 105'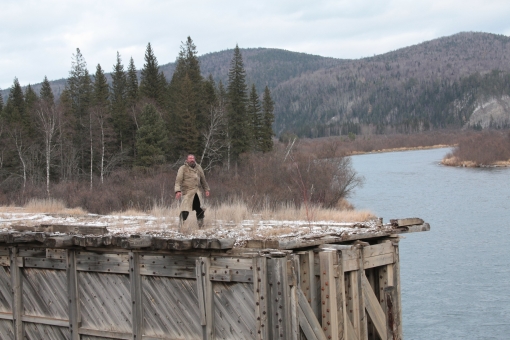 Screenings
06/27, 20:00 · Baj Pomorski – hall A
06/28, 14:45 · Kino Centrum
Trailer
Siberia, late autumn. In taiga, in the deserted village there lives an old man Ivan and his seven-year-old grandson Leshia. They wait for the boy's father, who left two years ago and has not returned yet. The Old Believer Ivan often prays to the only icon in the house and makes the boy pray too. A pack of feral dogs devours everything alive in the neighborhood. One of these dogs is Leshia's best friend — and that causes his rows with the old man. Sometimes their distant relative — uncle Yuri — brings some food to them. Once on his way back from Ivan's village uncle Yuri is attacked by dogs & perish. Ivan and Leshia don't have supply any more. In the village there appear marauders, seeking icons. They beat the old man heavily and take away his icon. Leshia cares for his grandfather; he crayons a picture with yellow God and prays for Ivan's life. The dogs savage their goat, all food is over, and Ivan starts hunting the dogs. Once Leshia witnesses Ivan shooting at "his" dog and runs away...
| | |
| --- | --- |
| Director: | Slava Ross |
| Screenplay: | Slava Ross |
| Music: | Aydar Gaynullin |
| Cinematography: | Yury Rayskiy |
| Editing: | Igor Litoninskiy |
| Cast: | Misha Protsko, Pyotr Zaychenko, Sonya Oleynik, Lidiya Bairashevskay, Nikolai Kozak, Sergey Novikov, Sergei Puskepalis |
Slava Ross — scriptwriter, director & producer. Member of the Director's Guild of Russia. He was a lead actor in the Novosibirsk Red Torch theatre in 1989-1996. Then he entered Russian State Institute of Cinematography, directing faculty. Slava has made his first student short film Meat in 2002. The film has won over 30 awards. In 2003 Slava together with his friends has founded a film company Tundra Film, which has produced his first feature film — a sad comedy Fat Stupid Rabbit. The film has won several awards at international festivals.