Oxygen
Adem · dir. Hans Van Nuffel
Belgium, The Netherlands 2010, 98'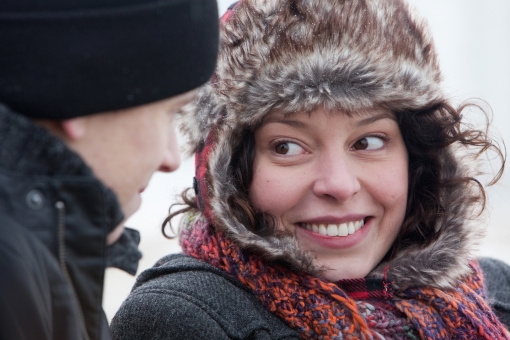 Screenings
06/25, 20:00 · Baj Pomorski – hall A
06/29, 12:30 · Kino Centrum
Trailer
Tom and his brother Lucas are young men who suffer from cystic fybrosis, a genetic disease that slowly destroys their lungs. Tom is struggling to cope with his short life expectancy and hangs around with a gang of hoodlums. In the hospital, he meets Xavier, a young man suffering from the same illness but behaving like a top athlete. Xavier is a confirmed optimist, even when he is dumped by his girlfriend Anneleen. Tom takes in Xavier's energy and joy of life. He roams the hospital grounds and falls for the charms of quirky Eline, who has been quarantined for months due to an infection. They are not allowed to touch and can only talk to each other over the phone. Yet, they start a romance. When Tom's brother Lucas dies during lung transplantation surgery, Tom is inconsolable. He seeks refuge among his rough friends, avoids Xavier and breaks up with Eline. But one day, he again crosses Xavier's path who gives him back his taste for life…
"Oxygen" is compelling, romantic, funny and heartbreaking. It's a drama about having little time and not wanting to miss out on anything.
| | |
| --- | --- |
| Director: | Hans Van Nuffel |
| Screenplay: | Jean-Claude van Rijckeghem, Hans Van Nuffel |
| Music: | Spinvis, Geike Arnaert |
| Cinematography: | Ruben Impens |
| Editing: | Alain Dessauvage |
| Cast: | Stef Aerts, Maarten Mertens, Wouter Hendrickx, Marie Vinck, Anemone Valcke, Gijs Scholten van Aschat, Ina Geerts |
| Awards: | Grand Prix Des Amériques, Nagroda Jury Ekumenicznego / Grand Prix Des Amériques, Ecumenical Jury Award – World FF Montreal (2010); Variety New Talent Award / Nagroda Variety dla Młodych Talentów – Zurich FF (2010) |
Hans Van Nuffel (born in 1981) is a graduate from the Brussels RITS film academy. His graduation project was the highly acclaimed short film The End of the Trip (Het Einde van de Rit), which won him a prestigious "Wildcard" from the Flemish Audiovisual Fund. With the wildcard, Hans was able to direct a second short film, Fal (2007), a hard-boiled drama about a revengeful African arms dealer. Fal won an award at the "Leuven Kort" Filmfestival and the Jury Award at the 2008 Montréal World Film Festival. Hans subsequently directed the stylish short Nighthawks (Nachtraven), a dark vampire tale. Hans is considered one of Flanders' most promising new talents. During the past two years, he has been working on his feature film debut Adem (Oxygen).