King's Road
Kóngavegur · dir. Valdís Óskarsdóttir
Iceland 2010, 105'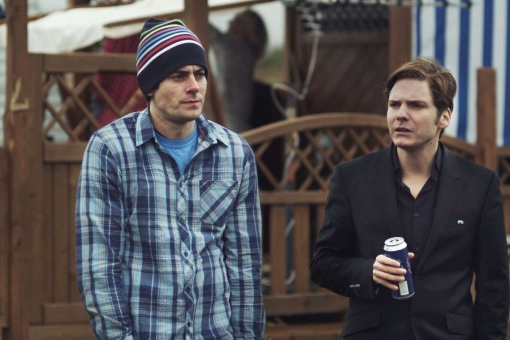 Screenings
06/26, 10:00 · Kino Centrum
06/28, 17:15 · Baj Pomorski – hall B
Trailer
The caravan park at Laugarvatn — more specifically, along the road "Kóngavegur" (King's Road) — is where a number of families are living. Some have been there for as long as they can remember; others have arrived only recently; some are there to spend their summer holidays, others are just there. Mummi (Gudmundur) Junior arrives with his friend Rupert looking for his father, Mummi (Gudmundur) Senior, who is hiding with his new wife, Sally and his mother Maria in a mobile home at Laugarvatn. Junior has to come back to Iceland because of a dept that he is hoping that his father can help him sort out. What he didn't know is that his father has lost more or less everything. Although, he has kept the extent of his loss secret and managed to keep some euros and US dollars stashed away in a husky dog that his mother looks after. Gudmundur Senior is not at home when Junior and Rupert turn up. When Senior eventually comes and sees his son he is not pleased and Sally is surprised. She has never heard of any son. In fact she doesn't know anything about Senior's past at all...
| | |
| --- | --- |
| Director: | Valdís Óskarsdóttir |
| Screenplay: | Valdís Óskarsdóttir |
| Cinematography: | Bergsteinn Björgúlfsson |
| Editing: | Valdís Óskarsdóttir |
| Cast: | Björn Hlynur Haraldsson, Daniel Brühl, Sigurður Sigurjónsson, Gísli Örn Garðarsson, Nanna Kristín Magnúsdóttir |
Valdís Óskarsdóttir was born 1950 in Akureyri, Iceland. She is an Icelandic film editor whose work includes The Celebration, Les Misérables, Finding Forrester and Eternal Sunshine of the Spotless Mind. For some years she worked as a photographer at newspapers and weekly magazines and did some freelance stuff as well. She wrote articles, took the photos, did photo illustrations for books of poems and participated in photo exhibitions. Then she worked some years as a writer (short stories, tales for children, radio plays and TV programs). She always had this crazy dream of working in films — she started this work in June 1985.