Tilva Rosh
Tilva Roš · dir. Nikola Ležaić
Serbia 2010, 110'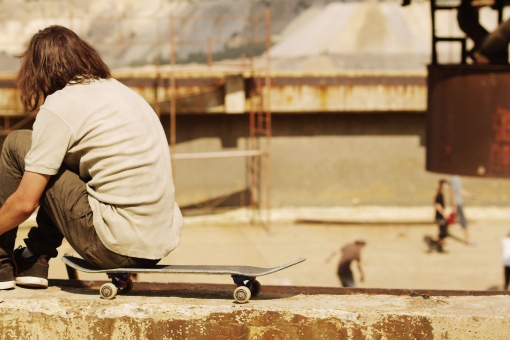 Screenings
06/29, 14:30 · Baj Pomorski – hall A
06/30, 22:30 · Baj Pomorski – hall B
Trailer
Bor, Serbia, once the largest copper mine, now just the biggest hole in Europe. Small union protests are going on. Toda and Stefan are best friends, skaters, who spend their first summer after finishing high school. Stefan's going to Belgrade to the University in fall. Toda says he wouldn't apply to the University even if he had the money. They spend time shooting "Jackass-like" videos and hanging out with Dunja, who came back from France for her holidays, and get into a quiet battle for her attention. In that strange relationship of dying friendship and rivalry they try to get ahead of each other. But when small union protest evolves into a huge riot their destructiveness will tie them together.
"Tilva Roš" is a drama about growing up with subtle influences of Gus van Sant, Larry Clark and Harmony Korin.
| | |
| --- | --- |
| Director: | Nikola Ležaić |
| Screenplay: | Nikola Ležaić |
| Cinematography: | Miloš Jaćimović |
| Editing: | Nikola Ležaić |
| Cast: | Marko Todorović, Stefan Đorđević, Dunja Kovačević, Marko Milenković, Nenad Stanisavljević, Nenad Ivanović, Filip Maksimović |
| Awards: | Nagroda za Najlepszy Film Pełnometrażowy, Nagroda za Najlepszą Rolę Męską – FF w Sarajewie / Best feature film award, best male actor – Sarajevo FF (2010) |
Nikola Ležaić is born on 6th of August 1981 in Bor, Serbia where he finished high school. He studied film directing at the Faculty of dramatic Arts in Belgrade. Before that he was co‐founder of a comic group named SMOG, and co‐founder of the first literary movement of the XXI century named Metasynchrism. Ležaić is also the author of numerous award-winning documentaries and short films. Tilva Rosh is his feature debut.