Black Thursday. Janek Wiśniewski fell
Czarny czwartek. Janek Wiśniewski padł · dir. Antoni Krauze
Poland 2011, 100'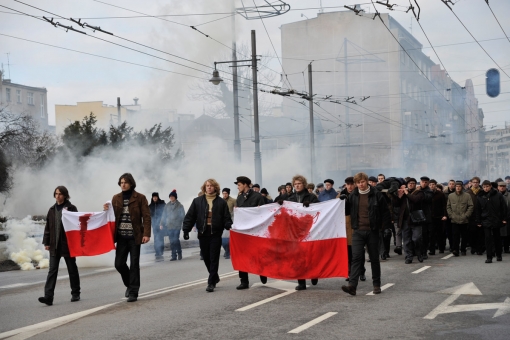 Screenings
06/28, 19:15 · Kino Centrum
Trailer
It was December 1970 at the Coast in Gdynia, when Polish army shoot 46,000 bullets of various calibres at the demonstrating shipyard workers. One of those bullets hit an 18-year-old boy, who then became a legend...
This is the biggest Polish film production, since Popiełuszko. Freedom Is Within Us of 2008. This heartbreaking picture, by Antoni Krauze, which has already been compared to Paul Greengrass' Bloody Sunday, brings back one of the darkest chapters in the history of the People's Republic of Poland. It is a spectacular reconstruction of the dramatic events that took place in Gdynia and ended in a violent pacification of protesters, carried out in December 1970, by army and Milicja troops. The grandeur production and suspense are not the only assets of the film. It is particularly worth paying attention to the superb performances of Piotr Fronczewski as Zenon Kliszka and Wojciech Pszoniak, who portrays Władysław Gomułka.
| | |
| --- | --- |
| Director: | Antoni Krauze |
| Screenplay: | Michał S. Pruski, Mirosław Piepka |
| Music: | Michał Lorenc |
| Cinematography: | Jacek Petrycki |
| Editing: | Rafał Listopad |
| Cast: | Marta Honzatko, Marta Kalmus-Jankowska, Michał Kowalski, Cezary Rybiński, Piotr Fronczewski, Wojciech Pszoniak |
| Awards: | Wyróżnienie specjalne Jury – FPFF Gdynia / Special mention of the Jury – PFF in Gdynia (2011) |
Antoni Krauze (born in 1940) — director and creator of many Polish short and feature films. He studied at the Academy of Fine Arts in Warsaw and also cooperated with the famous Students' Satirical Theatre (STS). He graduated from the Faculty of Directing at the Film School in Łódź, in 1966. He has been working independently, since 1969. He made friends with Piwnica pod Baranami and took part in many of their endeavours.
Selected filmography:
2010 – Czarny czwartek. Janek Wiśniewski padł / Black Thursday. Janek Wiśniewski fell
2004 – Do potomnego
1995 – Akwarium / Acquarium
1982 – Prognoza pogody / Weather Forecast
1981 – Stacja / The Station
1976 – Zaklęty dwór / The Haunted Mansion
1975 – Strach
1972 – Palec Boży / The Hand of God
1971 – Meta / The Pad