Informer, The
Konfident · dir. Rafał Kapeliński
Poland 2011, 30'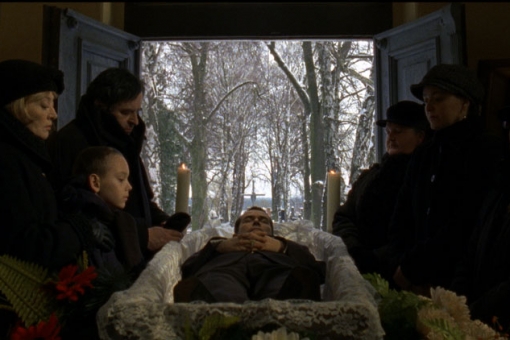 Screenings
06/27, 15:30 · Baj Pomorski – hall B
Trailer
The Informer is a film that deals with issues, which, have not yet been discussed by many Polish filmmakers. The screenplay has been inspired by the events that shook the closest family of the director, when the Wildstein List had been published. It is a film about big politics and our petty, everyday lives, about truth and lies in the family, about love and solitude. It emphasises the most basic rule: to keep your head cool, against all odds.
As the director put it: "It is a very sad comedy, told in a nostalgic tone. The politics in the film makes it very grotesque. It is by far the most difficult film I have ever made".
| | |
| --- | --- |
| Director: | Rafał Kapeliński |
| Screenplay: | Rafał Kapeliński |
| Music: | Paweł Dyllus |
| Cinematography: | Zbigniew Malecki |
| Editing: | Maciej Pawliński |
| Cast: | Wiesław Sławik, Kazimierz Mazur, Andrzej Szopa, Andrzej Szewczak, Bogumiła Murzyńska |
Rafał Kapeliński (born in 1970) — director and screenwriter. He has studied English Philology at the Nicolaus Copernicus University in Torun and media management at the Washington University in Seattle (USA). He has graduated from the London Film School (LFS). He is a co-founder of the Aurora Film Production Company. He was granted a scholarship, as part of the Cinefondation Residence programme, sponsored by the Cannes FF (2009). He made two independent feature films: Emily Cries (2006) and The Ballad of Piotrowski (2007), both of which have received grand awards at the festivals in Poland and abroad.
Filmography:
2011 – Konfident / The Informer
2007 – Ballada o Piotrowskim / The Ballad of Piotrowski
2006 – Emilka płacze /  Emily Cries