Rite of Passage, The
Mała matura 1947 · dir. Janusz Majewski
Poland 2010, 108'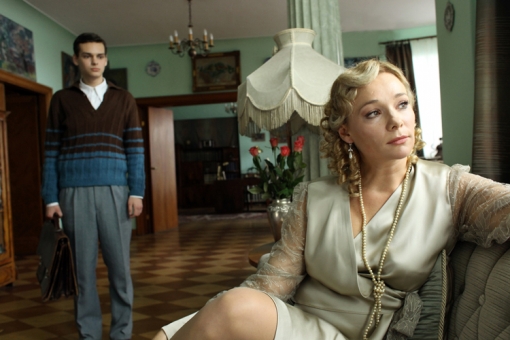 Screenings
06/30, 19:30 · Kino Centrum
Trailer
It is a warm and humorous story about growing up in the first stormy years of post-war Poland. Just as in Peter Weir's Dead Poets Society, we take a look at a classroom to experience the conflict between biology and politics, nature and traditions, the need for freedom and an oppressive system that the main characters struggle against, inside of them.
Ludwik and his parents move to Cracow, where he starts education in one of the best Grammar School in the city. As he is the "new one", he needs to be recognised by schoolmates. Ludwik's idol is Marek — a two-year older boy — who is rumoured to have been fighting in the Warsaw Uprising of 1944. Ludwik is tormented by a storm of conflicting emotions. His first infatuation and sexual intercourse are accompanied by a rebellion against the unjust authorities, and the intention to copy his older rebellious idol. Soon, Ludwik's life becomes full of chases, arrests and shootouts in the street. Such events mark the boy's adolescent years.
| | |
| --- | --- |
| Director: | Janusz Majewski |
| Screenplay: | Janusz Majewski |
| Music: | Tomasz Stańko |
| Cinematography: | Adam Bajerski |
| Editing: | Milenia Fiedler |
| Cast: | Adam Wróblewski, Antoni Królikowski, Marek Kondrat, Sonia Bohosiewicz, Agnieszka Michalska, Artur Żmijewski, Wojciech Pszoniak, Wiktor Zborowski, Marian Opania, Olgierd Łukaszewicz |
| Awards: | Złote Lwy – Nagroda Specjalna Jury – FPFF, Gdynia / Golden Lions – Special Award of the Jury – PFF in Gdynia (2010) |
Janusz Majewski (born in 1931), associate professor of film-making, who gives lectures, both in Poland and abroad. He graduated from the Faculty of Architecture at the Cracow University of Technology and from the Faculty of Directing at the Film School in Łódź. He has received numerous awards at international film festivals in, among others, San Francisco, Buffalo, Vancouver, Cork, Mannheim and Prague. He made more than 15 feature films. Janusz Majewski and Andrzej Wajda play the honourable roles of Honorary Presidents of the Polish Filmmakers Association.
Selected filmography:
2005 – Po sezonie / After the Season
1998 – Złoto Dezerterów / Deserter's Gold
1985 – C.K. Dezerterzy / H.M. Deserters
1982 – Epitafium dla Barbary Radziwiłłówny / An Epitaph for Barbara Radziwill
1979 – Lekcja martwego języka / Lesson of a Dead Language
1977 – Sprawa Gorgonowej / The Gorgon Case
1975 – Zazdrość i medycyna / Jealousy and Medicine