Mill and the Cross, The
Młyn i krzyż · dir. Lech J. Majewski
Poland, Sweden 2011, 96'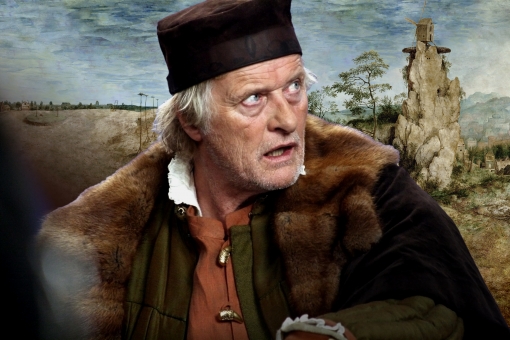 Screenings
06/26, 14:45 · Kino Centrum
Trailer
Revolution in cinema! Revolution in art! Revolution in thinking! It is the first time that art has been so close to cinema. The newest film by Lech Majewski is sure to impress everybody, who come to the cinema to experience something unique. Right in front of our eyes, the hand of the director revives the amazing painting of Peter Bruegel — The Way to Calvary — with all its beauty, starkness and cruelty.
Thanks to the new technologies, we witness the fates of 12 characters from the painting. It took 3 years to make the film, which demanded a great deal of patience and imagination. The film made use of the CGI technology (Computer-Generate Imagery) and 3D, which was used in, among others, Pan's Labirynth and Avatar. The words of the director himself: "The work we've done is similar to the weaving of a giant digital tapestry, made of multi-layered perspectives, atmospheric phenomena and people".
| | |
| --- | --- |
| Director: | Lech J. Majewski |
| Screenplay: | Lech J. Majewski, Michael Francis Gibson |
| Music: | Lech J. Majewski, Józef Skrzek |
| Cinematography: | Lech J. Majewski, Adam Sikora |
| Editing: | Eliot Ems, Norbert Rudzik |
| Cast: | Rutger Hauer, Michael York, Charlotte Rampling, Joanna Litwin, Marian Makula, Oskar Huliczka |
| Awards: | Nagroda Specjalna Jury, Złote Lwy – Najlepsza Scenografia, Najlepszy Dźwięk – FPFF Gdynia / Special Jury Prize, Golden Lions – Best scenography, Best sound – PFF in Gdynia (2011) |
Lech Majewski (born in 1953) — he is an outstanding film and theatre director. Majewski is also a renowned writer, poet and painter. He is a member of the Directors Guild of America and the European Film Academy. He started as a student at the Academy of Fine Arts, but he decided to give that up for the faculty of directing at the Film School in Lodz (in 1973). His independent debut as a director was The Knight (1980). It was highly acclaimed by film critics in Great Britain and America. Prisoner of Rio (1988) was Majewski's great commercial success in America. Two years later, he moved to Hollywood. In 1999, he made Wojaczek, which received numerous awards.