Flying Pigs
Skrzydlate świnie · dir. Anna Kazejak-Dawid
Poland 2010, 99'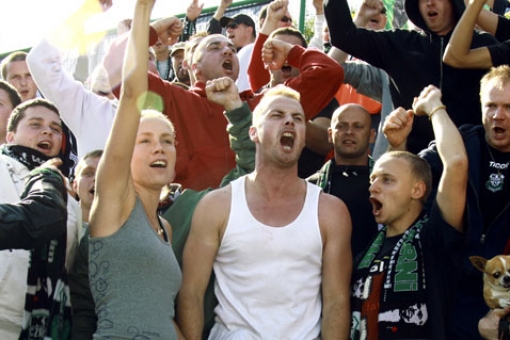 Screenings
06/25, 15:00 · Kino Centrum
Trailer
The lives of the four main characters are turned upside down, when a local sports club gets kicked out of the league. Oskar is forced to put on a suit and take a job from a local mafia boss. Oskar's brother learns the taste of revenge from a mad woman, while Baśka realises that you may know a lot of people, but among them there is just few true friends. A single decision of the main character leads to an avalanche of unexpected events. Oskar's new way of life will get him in real trouble and make him end up naked at a local square, in broad daylight. He will also lose his girlfriend, become the heart's throb of his brother's girlfriend and, quite unexpectedly, a superhero, in the eyes of some people.
It is a film about passion, honour and living on the roll. However, the true game here is love.
| | |
| --- | --- |
| Director: | Anna Kazejak-Dawid |
| Screenplay: | Doman Nowakowski, Anna Kazejak-Dawid |
| Music: | Łukasz Targosz |
| Cinematography: | Michał Englert |
| Editing: | Jarosław Kamiński |
| Cast: | Paweł Małaszyński, Piotr Rogucki, Olga Bołądź, Karolina Gorczyca, Cezary Pazura, Agata Kulesza, Eryk Lubos, Cezary Pazura, Andrzej Grabowski |
Anna Kazejak-Dawid (born in 1979) — she is one of the most talented directors and screenwriters of the young generation. She started studying film at the University of Silesia and University of Lodz, but give it up to study at the faculty of directing at the Film School in Łódź (2001). While studying, she made a few short feature films and documentaries (including You Are There, A Few Simple Words), which were awarded numerous prizes at film festivals in Poland and abroad. In 2005, she debuted with the first full feature film — Ode To Joy — for Akson Studio, which she made together with two friends from the university. She has lately made a full-length documentary – Bocznica. She has finally made the decision to take a challenge of making a full-length feature film, which resulted in Flying Pigs.