Failed scenario
Nevykęs scenarijus · dir. Kristina Sereikaitė, Linas Mikuta
Lithuania 2010, 8'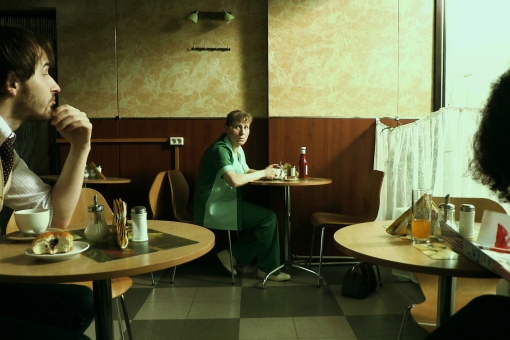 Screenings
06/26, 15:30 · Baj Pomorski – hall B
The plot talks about a lonely timid woman who works in a low-end inn. When a happy couple accidentally leaves a purse near the table, the inn busser can't resist the temptation to check its contents. There she finds intriguing evidence of crime, but runs out of time to inspect it since the criminal himself rushes into the toilet to catch her in the act. The scene turns dramatic, but is it all the way it looks like?
| | |
| --- | --- |
| Director: | Kristina Sereikaitė, Linas Mikuta |
| Screenplay: | Kristina Sereikaitė |
| Music: | Tomas Stirna |
| Cinematography: | Kristina Sereikaitė |
| Editing: | Kristina Sereikaitė |
| Cast: | Sonata Visockaitė, Ieva Andrejevaitė, Josif Baliukevič, Tomas Stirna, Marius Repšys, Jakaterina Deineko, Jonas Gimbutis |
Kristina Sereikaitė (born in 1980) — is a young photographer and videomaker living in Vilnius. In this moment she continues Master studies at Lithuanian Academy of Music and Theatre. Her study practise was covered at the Rodando 16:9 Producciones as a director of photography and editor in Barcelona (2009). She also had made an internship at the National Photography school in Arles, France (2007). Since 2004 she participates in personals or groupes photographic and video exhibitions in France and in Lithuania.