Balcony, The
Balkonas · dir. Giedrė Beinoriūtė
Lithuania 2008, 48'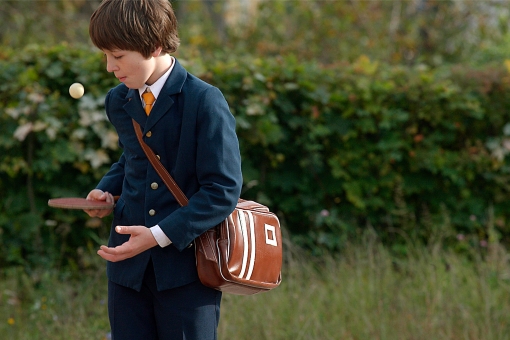 Screenings
06/29, 17:00 · Baj Pomorski – hall B
07/01, 18:45 · Baj Pomorski – hall B
Trailer
The film is set in a small provincial town in the Soviet Union during the 1980s. Following the divorce of his parents, Rolanas settles in with his father. He begins a friendship with Emilia, a girl living the flat next door. Since both children are shy and fearful, they communicate through the wall or from their balconies, or through the electric plug. It turns out that Emilia's parents are also on the verge of divorcing. The children discover they have much in common, but after a near-tragic incident Emilia is barred from further playing on the balcony. This encourages the pair to go on a "real" date.
| | |
| --- | --- |
| Director: | Giedrė Beinoriūtė |
| Screenplay: | Giedrė Beinoriūtė |
| Music: | Indrė Stakvilė |
| Cinematography: | Audrius Kemežys |
| Editing: | Giedrė Beinoriūtė |
| Cast: | Elzbieta Degutytė, Karolis Savickis, Saulė Rašimaitė, Dovilė Tarvydaitė, Viktorija Kuodytė, Rolandas Kazlas, Irmantas Bačelis |
Giedrė Beinoriūtė (born in 1976) was born in Vilnius. She holds and MA degree from the Lithuanian Academy of Music and Theatre, with a speciality in television directing. Since 1997, she has directed and written six drama and documentary shorts, and she has worked as an assistant to established Lithuanian film directors Šarūnas Bartas and Arūnas Matelis. Beinoriūtė has been a member of the Lithuanian Film-makers' Union since 2004. She has taught scriptwriting at the Lithuanian Academy of Music and Theatre since 2007.
Filmography:
2007 – Gyveno senelis ir bobutė / Once There Lived a Grandpa and a Grandma
2005 – Vulkanovka. Po didžiojo kino / Vulkanovka. After the Grand Cinema
2004 – Egzistencija / Existence
2002 – Troleibusų miestas / Trolleybus City
1999 – Mama, tėtis, brolis, sesuo / Mother. Father. Brother. Sister.
1997 – Mano vienišos draugės / My Single Friends