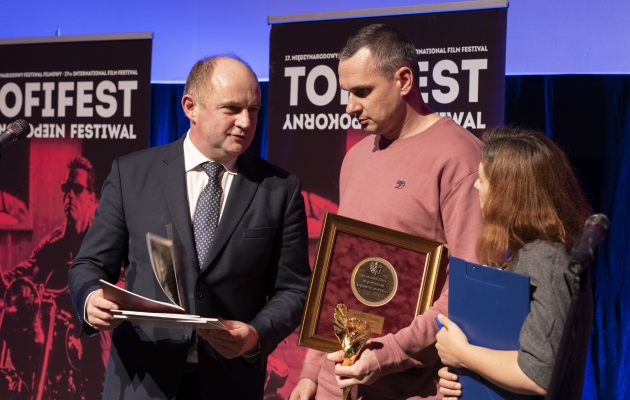 photo: Wojtek Szabelski / szabelski.com
Oleg Sentsov, a film director from Ukraine, sentenced by a court in Russia to 20 years in prison in the wake of anti-government protests in Crimea, received the Golden Angel for Artistic Insolence during the 17th edition of the Tofifest International Film Festival.
We should all take a moment of silence and ask ourselves the question, whether we would be capable of taking the same stance, said Kafka Jaworska, organiser of the festival, announcing the special guest. The audience greeted Oleg Sentsov giving him a standing ovation. The Ukrainian film director began with thanking for the support he received, which, according to his own words, made him a lot more confident while in prison. He captivated the audience with a display of sheer modesty, saying that: I do not deserve to hear all the beautiful words that are addressed to me. We never know how strong we truly are, until we find ourselves in the circumstances that happened to me. I am truly grateful. I have not done anything special.
When awarding Oleg Sentsov the Unitas Durat Palatinatus Cuiaviano-Pomeraniensis medal (the highest distinction presented by Marshal of Kujawsko-Pomorskie), Marshal Piotr Całbecki made a reference to the history of Poland. People in both Poland and Ukraine are well aware of the meaning of exile to the Soviet labour camps. If we succumbed, today there would neither be free Poland nor free and fighting Ukraine.
At the end of his speech, the Marshal also commented on the 35th anniversary of the tragic death of Father Jerzy Popiełuszko. In his fight, he only used one weapon: he overcame evil with good. You are our Father Jerzy Popiełuszko of the 21st century. It is an honour for me to stand here before you.
The Golden Angel was presented to Oleg Sentsov by Michał Zaleski, President of Torun, who said: May this angel I am I giving you guard you well. Let no one ever again dare put you behind bars and claim that fighting for freedom is wrong.
During the meeting, Oleg Sentsov demonstrated great sense of humour and disarming easiness and distance, when talking about the traumatic ordeal that befell him. There is nothing particularly scary about being in prison. It can be tough, but it is survivable.
When commenting on staying creative while in prison, he said: It is not a major problem – you just grab a piece of paper and something to write. When asked about finding inspiration for new films, he replied: I do not need to be inspired, as I can manage perfectly on my own. The film director added that he had no intention of writing a script dedicated to his time in prison.
When talking about Russian, Oleg Sentsov was gentle, but also adamant. I do not feel hate toward other people. I simply think they are mistaken. He compared the present social and political situation in Russian to the reality of life in the Third Reich, where the entire nation got it all wrong, deceived by their leader. He made a reservation, though, that Putin is not Hitler by any stretch, although people die and the overall situation is quite difficult.
When asked what he would have said to Vladimir Putin, if he there was a chance to meet him face to face, he replied that such a situation was too abstract and unreal, and he preferred relating to situations within the realm of possibility. I am willing to shake his hand, if that would lead to setting all Ukrainian citizens free.
Anna Dwojnych