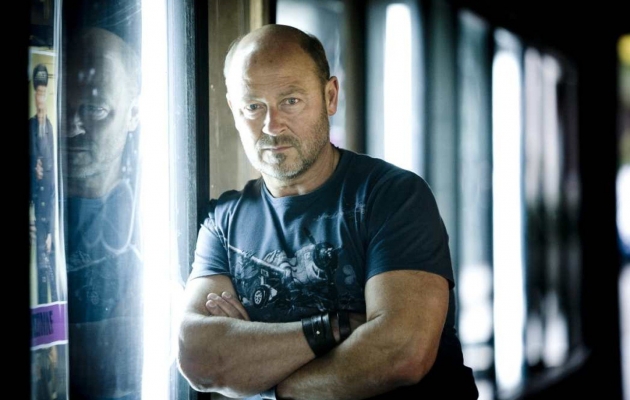 Jan Jakub Kolski, a totally independent author in Polish cinema, and Krzysztof Majchrzak, an individualist actor, are going to be awarded the Golden Angels for Artistic Insolence at the 19th edition of the Tofifest International Film Festival. Kujawy Pomorze Region. The Flisak Award given by the President of Toruń is going to be presented to the actress Beata Kawka.
Each of them is an individualist, who follows their own unique path. They take no notice of any fashions or trends nor ever crave for popularity or recognisability. They do their own thing and stay true to themselves. We wish to honour that, comments Kafka Jaworska, director of Tofifest. Kujawy Pomorze Region.

Jan Jakub Kolski is more than just a phenomenal film director, but also a cinematographer, screenwriter, and prose writer. He considers himself to be "a stubborn, provincial film director, who never gives in to any trends." He has developed a distinctive and original style of filmmaking, and his films have enraptured many generations of audiences for decades.
He made his début in 1990 with the film Pogrzeb kartofla. His greatest success came only three years later, in 1993, when he made Jańcio Wodnik / Johnnie Waterman, featuring a superb performance of Franciszek Pieczka. His films are famous for using authentic landscapes filled with a touch of magic, religious sensitivity and references to the world of heathen tales of old. It was exactly this film universe that has won him a faithful and fervent audience, thanks to such films as Pograbek, Cudowne miejsce / Miraculous Place, Szabla od komendanta / The Commanders Sword, or Grający z talerza / Playing from the Plate. In 1995, he received Polityka's Passport awarded by Polityka weekly magazine for "originality and re-discovering the spirit of Polish provincialism."
Krzysztof Majchrzak is a film and theatre actor, musician, and academic teacher, who decided to be a rebel by choice. He is famous both for his powerful film roles and controversial opinions on the Polish theatre and film community – he has never been afraid to share his views in public.

The role in the film Aria dla atlety / Aria for an Athlete directed by Filip Bajon, in 1979, marked an important step in his career. In the film, he portrayed Władek Góralewicz, a wrestler performing in circuses at the beginning of the 20th Century. His performances were a combination of primitive strength and great sensitivity, something that later on turned out to be Krzysztof Majchrzak's characteristic artistic quality. In 1980, he was awarded the Zbigniew Cybulski Award. He has been cast in over 30 films. Krzysztof Majchrzak gave a great acting performance in the film Konopielka (1981) directed by Witold Leszczyński, based on the book of the same title penned by Edward Redliński. In the film Yesterday (1984), directed by Radosław Piwowarski, he was cast to play Mr Biegacz, a psychopathic teacher of military and civil defence training. In 1985, he returned to work with Witold Leszczyński in his drama Siekierezada / Axiliad, based on the novel written by Edward Stachura. Krzysztof Majchrzak gave one of his most interesting performances in the films directed by Jan Jakub Kolski, namely in Cudowne miejsce / Miraculous Place (1994), in which he played Father Andrzej, in Historia kina w Popielawach / History of Cinema in Popielawy (1998), in which he played as Józef Andryszek V, or in the famous drama Pornografia / Pornography (2003). He was given the role of Forst in the film Las, 4 rano / Forest, 4 am, for which he was also a co-author of the script. The roles in the films directed by Jan Jakub Kolski brought him an award for the best supporting male character (1994) and two awards for the leading male character (1998 and 2003), at the Polish Film Festival Gdynia.
This year, the Golden Flisak Award given by the President of Toruń to filmmakers connected to the region of Kujawsko-Pomorskie will go the hands of Beata Kawka, a film and theatre actress, a voice-over actress, and a dubbing director and producer, as well as the owner of Film Factory Studio.

Beata Kawka was born in 1967, in Szubin, in the region of Pałuki. She made her theatre début in 1990, as Justyna in the stage play Fredraszki directed by Jan Englert. In the years 1993-1998, she was part of the acting team performing at Teatr Nowy in Warsaw. In the years 2016-2018, she worked as the artistic director of the Municipal Theatre in Leszno. Today, she works as the artistic director of SCENA RELAX Performance Art Theatre, in Warsaw.
Her screen début came in 1991, when she was cast in episodic roles in the TV series Panny i Wdowy / Maidens and Widows, and then in the full-length film of the same title. In the 1990s, she performed in some of the first popular Polish TV productions, such as Matki, żony i kochanki / Mothers, Wives and Lovers and Ekstradycja 2. Later on, she continued to perform in a number of other popular TV series, for example: Na dobre i na złe, Samo życie, Barwy szczęścia, Pierwsza miłość, Złotopolscy, 13 Posterunek 2, Sfora, Prawo miasta, Komisarz Alex, Prawo Agaty, as well as in Belfer, the latter of which was shot in Chełmża, a town located not far away from Toruń. She created her first important role on the big screen in the Hungarian-Polish co-production Do widzenia wczoraj. Dwie krótkie komedie o zmianie systemu / Yesterday Goodbye (1993) directed by Janusz Majewski and Peter Bacso. She was also cast in the comedy Złoto dezerterów / Deserter's Gold (1998) directed by Janusz Majewski, and in two films directed by Bogusław Linda, namely in Sezon na leszcza / Sucker season (2000) and Jasne błękitne okna / The Skylights (2006), the latter of which brought her an award for the role of Beata at the Madrid International Film Festival). In recent years, she was cast in two blockbusters directed by Patryk Vega: Służby specjalne / Secret Wars and Pitbull. Nowe porządki / Pitbull. New orders. She has been a voice-over actress for a long time, and you can hear her voice in such film productions as Kong: King of Atlantis, Dumb and Dumber, or Harry Potter and the Prisoner of Azkaban, in the latter of which she was also the dubbing production manager.

This year's edition of Tofifest. Kujawy Pomorze Region will last from 30th June to 4th July, as always in Toruń. It will have a hybrid nature, combining both stationary and on-line film screenings. Rest assured that one thing remains unchanged: the festival will be a great feast for all cinema enthusiasts, both those coming to visit Toruń in person, and those sitting in front of their screens at home. Just as it has been every single year, to this day.
The patron of the TOFIFEST International Film Festival. Kujawy Pomorze Region is the City of Toruń; the Main Partner is the Province of Kujawsko-Pomorskie; the Main Sponsor is TZMO S.A. and the Bella brand. Other sponsors include Nova Trading S.A., ONDE S.A., PGE Toruń S.A., Urbitor Sp. z o.o., the Honorary Consulate of Finland in Toruń, Clean Way, and Studio Podłóg Ablux.