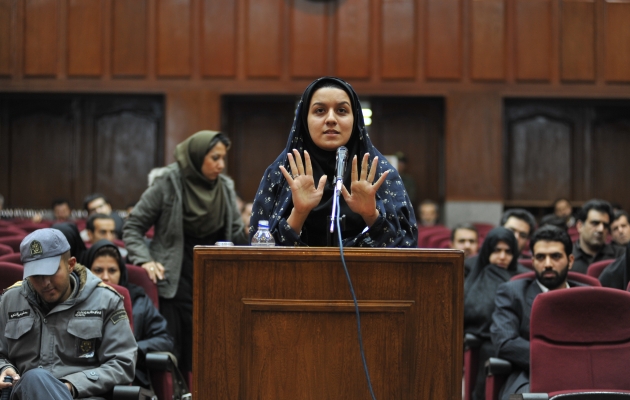 The section Rebels has been an inherent part of the Tofifest International Film Festival for quite a number of years now. This section emphasises the main theme of the festival, which is to introduce characters and personalities whose rebellious spirit, perseverance, or talent makes them stand out among the others, and change the course of history (the contemporary one included).
This section's main focus is to present women and heroines with their strength, perseverance, and relentless consistency, shown when striving to achieve equality and civil rights. During the upcoming edition of the festival, a total of seven unique films are going to be screened in this section, offering an insight into the stories of the selected female protagonists.
In 'Dream's Gate', film director Negin Ahmadi will take us for a very personal journey to show us how a few Kurdish female soldiers of the Women's Protection Units (YPJ) fight for equality. It will mark the Polish première of the film, which was nominated for the Crystal Bear award at this year's Berlinale Festival.
Journalist Mariana Carbajal will take us to Salvador, to take a closer look at the fate of women suffering from the most ruthless anti-abortion laws that have ever been enforced in any country in the world.
The hybrid film 'My Name is Andrea', which was screened during the Tribeca FF in New York, is a biopic about Andrea Dworkin, one of the most famous feminist, who had fought for civil rights, equality, and justice for women long before the #MeToo movement saw the light of day.
The topic of women rights is also analysed in 'Que sea ley / Let It Be Law' by Juan Solanas, yet another documentary film made in South America (Argentina). The film depicts a historic event – a rebellion organised by Argentinian women to establish a legal and safe way to have a legal abortion in this country.
We will also get acquainted with Monika Krause, a German and a private interpreter for Fidel Castro, who became a sex educator and earned the perverse nickname 'Queen of Condoms', during the turmoil of the Cuban Revolution.
You will also have a chance to see why the Peace Film Prize was awarded to the film 'Seven Winters in Tehran', during Berlinale 2023. The film is a portrayal of Reyhaneh Jabbari, a nineteen-year-old interior decorator from Iran, who became a symbol of resistance and struggle for women's rights.
The last film included in the section is a story about Marin Alsop, an outstanding conductor, who has shown extraordinary relentlessness and determination to pursue her dream, overcoming countless obstacles, to become one of the greatest female conductors of all time. She has proven that the profession she chose is not reserved for men only.
List of films:
Dream's Gate, dir. Negin Ahmadi, Iran, France, Norway 2023, 64'
Judged Bodies, dir. Mariana Carbajal, El Salvador, Argentina 2022, 66'
Let It Be Law, dir. Juan Solanas, France, Argentina, Uruguay 2019, 86'
My Name Is Andrea, dir. Pratibha Parmar, USA 2022, 94'
Queen of Condoms, dir. Silvana Ceschi, Reto Stamm, Switzerland, Ireland 2007, 76'
Seven Winters In Tehran, dir. Steffi Niederzoll, Germany, France 2023, 97'
The Conductor, dir. Bernadette Wegenstein, USA 2021, 90'