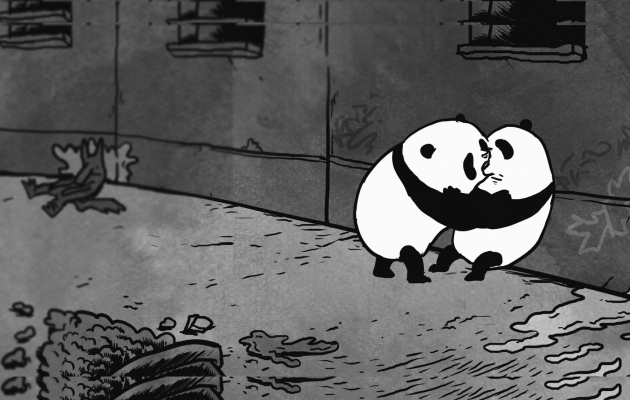 Screenings
10/23, 16:00 · Kino Centrum
The world is moving ever so fast and humans are claiming more and more space without necessarily considering the consequences. Pandas is caught in the middle of a game where concepts of commercialism and pure voyeuristic entertainment are put side by side with notions of animal preservation.
| | |
| --- | --- |
| Director: | Matúš Vizár |
| Screenplay: | Matúš Vizár |
| Music: | Ink Midget |
| Editing: | Martin Búril, Matej Šámal, Matúš Vizár |
| Animation: | Martin Búril, Adrián Hnát, Dalibor Kristek, Marek Pokorný, Dan Stanchev, Matúš Vizár |
| Awards: | MFF w Cannes / IFF in Cannes – Trzecia Nagroda w Cinéfondation / Cinéfondation: 3rd Prize (2013) |
Matúš Vizár was born in Slovakia in 1985. He studied animation at The Academy of Performing Arts in Bratislava, Slovakia, before attending FAMU in Prague, Czech Republic. Besides being a film maker, Vizár is also an illustration artist and political cartoonist.