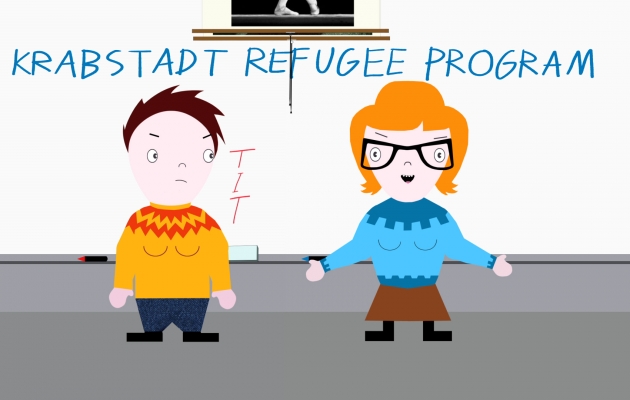 Screenings
10/24, 13:00 · Kino Centrum
SchlopSchlop (SS) and KK are two annoying women who work at the Office of Development in Krabstadt; a small town located in an undefined Arctic region where the Nordic countries have sent their Unwanteds. One day a group of Whaled Women are stranded on Krabstadt's shores and it's up to KK and SS to deal with the situation.
| | |
| --- | --- |
| Director: | Ewa Einhorn, Jeuno JE Kim |
| Screenplay: | Andreas Jakobsson, Ewa Einhorn, Jeuno JE Kim |
| Music: | Olof Dreijer, Jeuno JE Kim |
| Animation: | Sanni Lahtinen, Joni Männistö |
| Cast: | Anna Blomberg, Inga Cristina Campos, Magnus Mark |
| Awards: | Berlinale – Oficjalna selekcja / Official Selection (2013) |
Ewa Einhorn is a visual artist and filmmaker working with animation, satirical drawing and documentary film. Born 1977 in Klodzko / Poland she grew up in Sweden.
Jeuno JE Kim is a writer and an artist working with sound design, performance, video and text. Born 1977 in Seoul she is based in Malmö / Sweden.