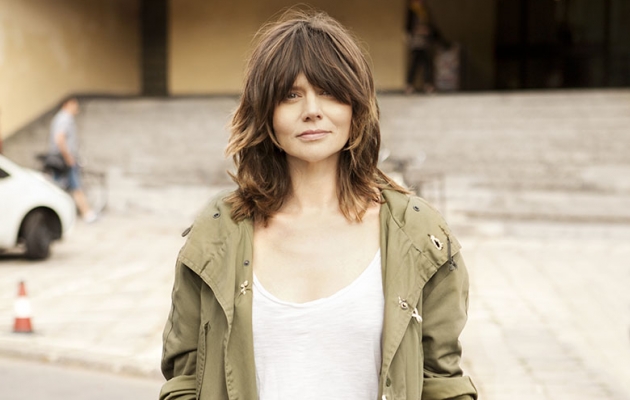 When still in film school, she was the favourite of Wojciech Has, and later on she was boldly pursuing her own goals, by making one film after another. Today, critics describe her film work, as "the most non-Polish work in the world of Polish films". Małgośka, as she wants people to call her, has become one of the most interesting directors of contemporary Polish cinema.
Szumowska was born in Krakow. In 1998, she graduated from the Faculty of Directing at the Film School in Lodz. Before that, she spent two years on studying the history of art, at the Jagiellonian University. She is the daughter of Dorota Terakowska, a journalist and writer, and Maciej Szumowski, a journalist and filmmaker. Her brother Wojciech Szumowski is a director of documentaries.
Szumowska started with making documentaries, and her short documentary Cisza (Silence) received many awards, both in Poland and abroad. It has been included in the list of the best short films in the history of the Film School in Lodz. Her full-length debut came in 2000 with Happy Man — a film that includes autobiographical themes, which are so characteristic of this author, and reappear in her later works. The script for Stranger, a film which discussed both birth and death, was awarded at a competition, during the Sundance IFF. 33 Scenes from Life, her successive work, was awarded with a Silver Leopard at the IFF in Locarno, and also won six prizes at the Gdynia Film Festival. The director divided the film into 33 sequences, in which she presented a story from her own life – the suffering and pain that followed, after she had lost her parents. That film made Szumowska a recognisable figure, in the world. Her two successive films were included in the Panorama and Competition sections of the Berlin International Film Festival. The main female character in Sponsoring a bold film that broke a social taboo — was portrayed by Juliette Binoche, while her newest work, In the Name of... features Andrzej Chyra, who won an award for the best male actor, at the Gdynia Film Festival. The film tells a story about a lonely priest looking for love, and it also won Silver Lions at the same festival. In her review of the film for "The Hollywood Reporter", Deborah Young wrote: "In the Name Of…. hovers in an interesting middle ground between Gothic expressionism and psychological drama, heightened by a fine cast and outstanding performances."
In Poland, Szumowska has been labelled as a "scandalmonger", who deals with inconvenient subjects, rebels against conventions, and breaks taboos. The abundance of adjectives in each review of her films leads to her being perceived as intriguing, thanks both to her film work and also to her personality. She says: "I have some freedom in me, some egotism, which is something unbecoming of a woman; a full package of male characteristics, wrapped in female physicality. But I like being a woman." For a couple of years, she has been collaborating with the same group of men, at the head of which is Michał Englert, a cinematographer. "Building relationships based on mutual respect makes sense. I always try to make friends. For example, while in France, I quickly made friend with the crew, so there were no clashes about overtime," she admits.
The work of Małgorzata Szumowska may be described, using the words of Sigmund Freud: "culture, as a source of suffering". The reason for that is the fact that in each of her films, Szumowska discovers existential paradoxes and ponders on the issue of the antinomy of corporeality, shaken identity, bourgeois prejudices, or the physical and mental suffering. At the same time, she abandons any metaphysical and melodramatic clichés, by exposing truths that we may find disturbing. The director is walking her own path and does not fear opinions of others. According to her own words: "Sometimes, I say things differently or more harshly, and I poke my tongue out, but that is all in good faith and out of sheer perversity. This is the way I am."