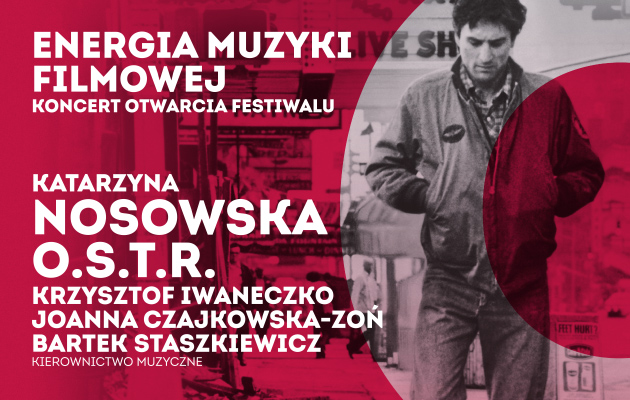 21 October, 19:00 · CKK Jordanki
The "Energy of Film Music" is a brand new endeavour undertaken as a result of the cooperation between TOFIFEST and the Apator Group. The concert will be based on new interpretations of popular compositions written for films by Krzysztof Krauze, Ridley Scott, or Quentin Tarantino, filled with "new energy" by the performers invited to perform during the event.
Among others, the stage filled with the energy of film music will be occupied by Katarzyna Nosowska, winner of this year's Golden Angel of TOFIFEST for Artistic Insolence, and O.S.T.R., who is currently the most popular rapper in Poland. There will also be a chance to see Krzysztof Iwaneczko, winner of "The Voice of Poland" TV Show, and Joanna Czajkowska-Zoń, winner of the 40th edition of the International Meeting of Jazz Vocalist in Zamość. All artists will present a broad cross section of soundtracks form the most prominent films in contemporary cinema, which have made a significant impact on the shaping of a language of cinema and tastes of audiences.
It would be quite difficult to imagine a concert of film music without any images. Therefore, songs will be performed in the company of visualisations, which have been created for that particular purpose. Artistic supervision over the project will be provided by Bartek Staszkiewicz, a keyboard player, pianist, music producer, and co-founder of Sofa band, the latter of which brought him a Fryderyk Award in 2007.
The originators of the concerts will focus on presenting music as a field of art that sets films in motion, makes them more dynamic, and stimulates "creative chaos in the minds of audiences."
When: 21st October, 7:00 p.m.
Apator S.A. is the exclusive partner of the "Energy of Film Music" concert.