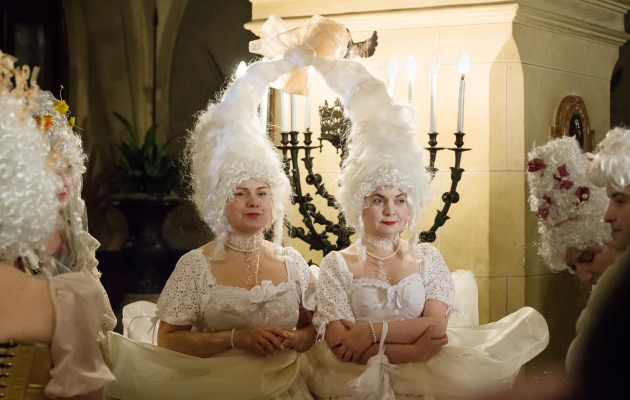 25 October, 15:30 · Kino Centrum
Theatrum Magicum is a story about a performance of a magician on the stage of a theatre in Lancut, at the end of the 18th century (the historical accuracy of that period is quite symbolic here). Three characters in the film are easily recognisable: it is Kasander from The Parades by Count Jan Potocki, Georges Méliès from his own films, and Baron Munchausen ― the great storyteller from the 18th century, who we might remember from the film by Karel Zeman and the engravings of Gustave Doré.
| | |
| --- | --- |
| Director: | Marcin Giżycki |
| Screenplay: | Marcin Giżycki |
| Music: | Sławomir Szudrowicz, Kordian Lewandowski |
| Cinematography: | Zbigniew Kotecki |
| Editing: | Marcin Giżycki, Łukasz Owczarzak |
| Cast: | Marcin Połoniewicz, Diana Ronnberg, Grzegorz Pleszyński, Kordian Lewandowski, Kamil Milewski, Tadeusz Żak, Grupa Czarny Karzeł |
| Production: | Fundacja Czarny Karzeł |
| Awards: | FF w Santa Cruz / Santa Cruz FF – Najlepszy Film Eksperymentalny / Best Experimental Film (2017); Best Fiction FF Los Angeles – Nagroda Publiczności, Wyróżnienie Specjalne / Audience Award, Special Mention (2018) |
Marcin Giżycki ― he is an art and film historian, film critic, film director, and photographer. He is an academic teacher at the Rhode Island School of Design in Providence. In 2016, he received an award for remarkable contribution to studying animated films given at Animafest Zagreb. He is an art director for the "Animator" Festival of Animated Films in Poznań.