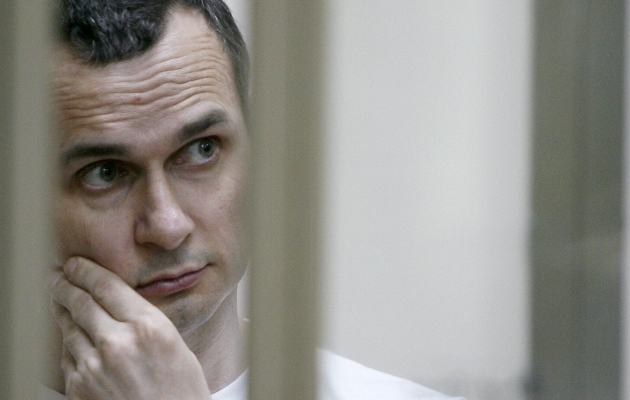 In previous years, TOFIFEST presented the work of filmmakers from such war zones as Syria or Ukraine, or films from the turbulent country of Armenia. This year, TOFIFEST is going to show solidarity with film directors, who are paying a high price for the rebellious nature of their work: Oleg Sentsov, Kirill Serebrennikov, and Jafar Panahi.
It is already well over 100 days of the hunger strike started by Oleg Sentsov, an artist from Ukraine, kept in a prison in Siberia; it has now been more than a year since the arrest of Kirill Serebrennikov, Russian, by the authorities in his home country, and eight years since Jafar Panahi, Iranian, has been placed under house arrest. They belong to the category of filmmakers, who use their camera to a greater purpose than just to tell a story. They consider it a battering ram to bring down the walls built by decision-makers to divide their fellow compatriots, according to their political beliefs. They bring up inconvenient topics, concealed issues, and subjects swept under the carpet. We are going to use their films as starting points to discuss artistic freedom. It is them, who leave a mark on the history of cinema and liberate us from the illusory assumption that cinema is there to entertain us and let us forget about the reality. Their attitude of steadfastness, courage, and independent spirit is what we intend to honour in the Rebels section.
Oleg Sentsov
He was arrested by the Russian FSB (Federal Security Service of the Russian Federation), in Crimea, on 11th May 2014, merely two months after the illegal annexation of the peninsula, and sentenced to 20 years in a forced-labour camp. He is serving the sentence in Labytnangi, Siberia, where he has gone on a hunger strike. After three months, this 42-year-old filmmaker has lost more than 30kg in weight. As part of the mentioned section, you will see his Gaamer, which premièred at the festival in Rotterdam, and a film by Dariusz Jabłoński titled Trial: The Russian Federation vs. Oleg Sentsov.
Kirill Serebrennikov
It is one of the leading film directors representing independent cinema. He was arrested in Saint Petersburg in August 2017, under suspicion of embezzling 68mln roubles received for a theatrical project. Russian authorities remain deaf to any of the arguments presented by other actors and collaborators, who have stood and defended him all along. Serebrennikov has never been one of the favourites of policy-makers in Russia, as his films are quite critical of the country. During the festival in Toruń, you will have a chance to see his latest work, Summer, which has so far had excellent reviews, and premièred at this year's edition of the Cannes FF. Unfortunately, Serebrennikov did not attend the festival, as the authorities denied his leave.
Jafar Panahi
He is a winner of the most important prizes given at film festivals in Venice, Berlin, and Locarno, a Caméra d'Or, and a prize in the Un Certain Regard section, both at the Cannes Film Festival, whose overwhelming absence at film festivals in recent years has certainly been noticed. Jafar Panahi from Iran belongs to those filmmakers, whose every subsequent film becomes a widely discussed phenomenon. Back in 2010, he supported the Iranian Green Movement, which attracted young people to protest against the result of presidential elections and fight for changes in the country, e.g. abandoning censorship. As a result, he was sentenced to six years in prison. Following a wave of protests against his conviction from artists all around the world, the sentence was changed to a house arrest and a 20-year prohibition on practising his profession. This year, during the coming edition of the TOFIFEST IFF, you will have a chance to see his latest film, 3 Faces, which will be an exclusive viewing preceding the cinema première of the film. It will be yet another of his films made illegally. The names of his collaborators are kept secret, and his name is the only one mentioned in the end credits. He shows his face in front of a camera, which is a testimony to his resilience, non-subordination, rebellion, and independence.