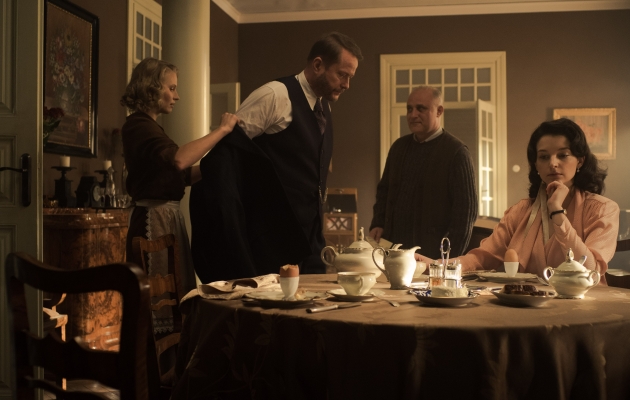 23 October, 17:30 · Cinema City — room 6
Aneta, the beautiful wife of a respected attorney Karol Holzer, dies in suspicious circumstances. Detective Chief Inspector Rafał Król, an officer of the police force cooperating with the so-called Blue Police under the German occupation, is trying to solve the mysterious murder case. Further leads bring more reasons for suspicion and reveal deeply hidden secrets of the late lady, and also unclear connections of her husband with a highly-ranking SS officer. One of the suspects is a slightly eccentric count Leon Przewiedzki, who has a habit of peeping on people visiting the attorney in his apartment, especially women. In the course of the investigation, Detective Chief Inspector Rafał Król finds an unusual ally in Ernst Kluge, adviser for the German Criminal Police (Kripo). As Holzer finds himself in an increasingly perilous situation, the killer is still at large and may be just a few steps away from committing another crime.
| | |
| --- | --- |
| Director: | Janusz Majewski |
| Screenplay: | Janusz Majewski |
| Music: | Paweł Lucewicz |
| Cinematography: | Arkadiusz Tomiak |
| Editing: | Milenia Fiedler, Mariusz Kuś |
| Cast: | Artur Żmijewski, Andrzej Zieliński, Aleksandar Milićević, Andrzej Seweryn, Bogusław Linda, Maria Dębska |
| Producer: | Włodzimierz Niderhaus |
| Production: | Wytwórnia Filmów Dokumentalnych i Fabularnych (Warszawa) |
| Distribution: | Kino Świat |
| Awards: | FF w Gdyni / Gdynia FF – nominacja: Złote Lwy / nomination: Golden Lions (2019) |
Janusz Majewski (born in 1931), associate professor of film-making, who gives lectures, both in Poland and abroad. He graduated from the Faculty of Architecture at the Cracow University of Technology and from the Faculty of Directing at the Film School in Łódź. He has received numerous awards at international film. He has made more than 15 feature films. Janusz Majewski plays the honourable roles of Honorary President of the Polish Filmmakers Association.
Selected filmography:
2019 – Czarny Mercedes / The Black Mercedes
2015 – Excentrycy, czyli po słonecznej stronie ulicy
2010 – Mała matura 1947 / The Rite of Passage

2005 – Po sezonie / After the Season

1998 – Złoto Dezerterów / Deserter's Gold

1985 – C.K. Dezerterzy / H.M. Deserters 

1982 – Epitafium dla Barbary Radziwiłłówny / An Epitaph for Barbara Radziwill
1977 – Sprawa Gorgonowej / The Gorgon Case

1966 – Sublokator / The Lodger