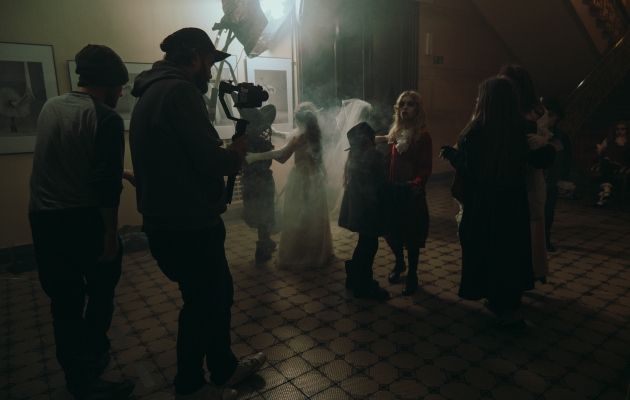 The leading theme of this year's edition of the workshops is first and foremost robots, rise of the machines, and the broadly-defined futurism in retro style. The inspiration for all film- and workshop-related activities is Triadisches Ballett (Triadic Ballet) by Oskar Schlemmer, which represents a synthesis between what is natural and artificial. The geometrization of movement and mechanization of the body, both of which are strictly related to space, will help us create a new vision of a city of robots, resembling a video clip.
When:
25th October 2019, from 5.00 p.m. to 6.30 p.m.
26th October 2019, from 12.00 p.m. to 3.30 p.m.
27th October 2019, from 12.00 p.m. to 3.30 p.m.
Where:
Domkultury! Bydgoskie Przedmieście (Bydgoskie Outskirts) and outdoor locations
Free admission!
---
Movie play! is an interdisciplinary project focusing on providing informal education, as a combination of various activities corresponding to broadly-defined film art, and sound and image editing. The innovative nature of the project first and foremost consists in making children and teenagers not only participants of the activities suggested by the educators, but their active co-authors. The attractive educational programme behind Movieplay! will make the youngest cinema enthusiasts involved much more actively in being in contact with film, defined as an entity exemplifying the synthesis of the arts.
This project is made in cooperation with Domkultury! Bydgoskie Przedmieście ― Fundacja Fabryka UTU.