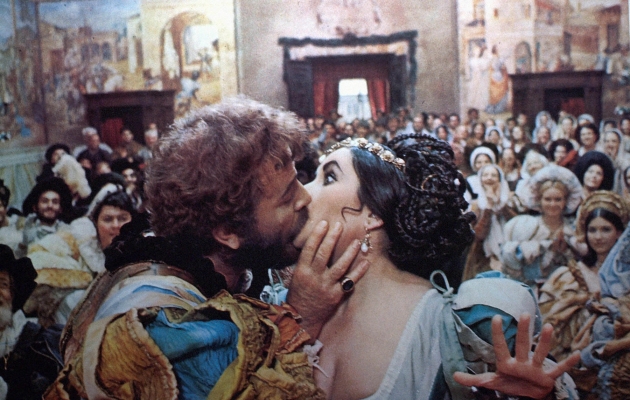 A descendant of Leonardo Da Vinci, a lover of Luchino Visconti, a vehement fighter for the liquidation of the Ministry of Culture, and last but not least, an extraordinary film director. Franco Zeffirelli, a legend of Italian cinema, is the main figure of the retrospective included in the 17th edition of the TOFIFEST IFF.
Franco Zeffirelli built his reputation on making adaptations of the greatest plays written by William Shakespeare, the films which are today considered to be cult classics. The world watched with shock and amazement, when The Taming of the Shrew starring Elizabeth Taylor and Richard Burton was released in cinemas, back in 1966. That adaptation was definitely a rebellious one, using the play of Master William Shakespeare as a starting point to create a funny story with a handful of references to the contemporary times.
Two years later, Romeo and Juliet starring Leonard Whiting and Olivia Hussey saw the light of day, resulting in Franco Zeffirelli's first nomination for Academy Awards, in recognition of his directing talent. His successive nomination for Academy Awards came with Brother Sun, Sister Moon, in 1972, that time for production design, which was a scandalous story of Saint Francis of Assisi, who experienced revelation resulting from a serious illness. In consequence, he established a church in San Damiano to which a lot of young people flocked, many of them being attractive followers singing songs taken straight from the Flower Power era…
The stance of Franco Zeffirelli was that nothing was considered taboo. He would boldly juxtapose the subjects of faith and corporeality, temptation and purity, or morality and ruthlessness. 1990 saw the release of Hamlet, in which Glenn Close partnered up with Mel Gibson, and the film would later on become one of the monuments of cinema conceived by Zeffirelli. Film critics commonly agree that it is the best adaptation of one of the most famous plays by William Shakespeare that has ever been made, something that not too many films can enjoy.
In his film productions, Zeffirelli would often comment on the subjects related to his own identity, i.e. being gay, which he came to realise in his teens, war trauma, and the experience of living in a foreign country. In 1999, he summed it all up in Tea with Mussolini, featuring Cher in one of the leading roles. The script for the film was based on autobiographical themes and focused on the fate of Franco Zeffirelli's mother and her female friends from England, who lived in Italy long enough to reject any suggestion of abandoning the country they loved, despite facing a real threat from the fascist regime.
It was a biopic and a rebellious one, which uncompromisingly altered reality for the sake of the script, and soon turned into a flagship genre of that Italian filmmaker. He perfected the genre in Callas Forever, 2002, which was a biographical film dedicated to the legendary opera dive Maria Callas, in which the diva makes a spectacular artistic comeback, in spite of experiencing a serious throat condition and mourning after the love of her life. People in Spain loved the film so much that it was later nominated for Goya Awards, i.e. the Spanish equivalent of Oscars.
Till the end of his life, the Italian master of cinema was highly regarded by both film viewers and film critics, and also appreciated by various minority groups. He died on 15th June 2019, at the age of 96, leaving behind a rebellious legacy, which continues to inspire the successive generations of filmmakers.